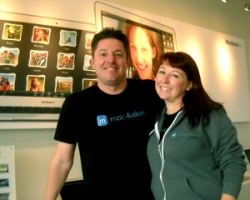 Main Street Seal Beach is the new home to mac-fusion and 12th Street Seal Beach is where the husband and wife team of Kevin and Marilyn Halpin make their home.
"We were in Signal Hill for 13 years," Marilyn Halpin said. "We closed that store. Now we can ride our bikes to work."
The couple said their Signal Hill location catered mostly to business.
The Seal Beach store, which they opened about a month ago, will give them more of a retail base. They said that so far, the response has been good and is keeping them busy. While they are waiting for the retail side to grow, they still get service work from Apple.
"Actually, we had the Signal Hill location well before they opened any of the Apple Stores," Kevin Halpin said. "We want to sell more computers and also do support and IT (Information Technology) service."
The Halpins are Apple specialists. Although they are not a part of the Apple company, they have received authorization from Apple to sell and service their computers.
They also fix computers.
"We have an award-winning service department that can handle all kinds of AppleCare, warranty and out of warranty repairs," he said.
"We also provide on site service. Actually, our service side of the business is up 10 percent over last year," he said.
The Halpins said they were already considering moving to a new location to get out of the industrial park in which their Signal Hill store was located.
"We just happened to see a few of these units on Main Street open up," Kevin Halpin said.
The Halpins said they are planning to hold a formal grand opening event later in March, but for now they are still getting settled into the rhythm of having a business on Main Street.
The mac-fusion store is located at 304 Main Street, Seal Beach. Its hours are 10 a.m. to 6 p.m., Monday through Friday and 10 a.m. to 2 p.m. on Saturday and Sunday. To find out more about mac-fusion, see the website mac-fusion.com/follow-us.