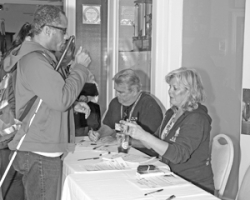 In 1990, Bonnie Gibson arranged to take 15 blind people sailing.  Each year, she and a growing group of skippers took more and more blind folks out on the water.
On Saturday, Oct. 18, 24 Seal Beach Lions and Leos participated in the 25th Annual Sailing for the Blind and Visually Impaired event.
The excursion was sponsored by the Women's Ocean Racing Sailing Association, hosted by American Legion Post 291 hosted and organized by the American Legion Yacht Club in Newport Beach.
The program provides blind and visually impaired persons the opportunity to experience learning the fundamental skills of sailing and the basic principles of seamanship. The objective is the same as for sighted sailors: to harness the wind and to savor the joys of sailing.
"In 1925, Helen Keller attended the Lions Clubs International Convention and challenged Lions to become 'knights of the blind in the crusade against darkness.'  Twenty-four Seal Beach Lions and Village Bible Academy Leos took this challenge to heart and volunteered their time to help make the day an enormous success," said Lion Marcella McSorley.
"Escorting over 200 blind and visually impaired guests to and from the 35 sailboats, serving a hot breakfast and spectacular lunch, selling raffle tickets, and entertaining 14 seeing guide dogs all came into play", said McSorley.  Donated by the Seal Beach Lions Club, every guest received a Signature Aligner to take home with them to assist in signing documents and credit card receipts.
It was the fifth year participating for Lion Shani-Rae Erickson.
"I can honestly say that this is my very favorite day of the year.  It's better than Christmas.  Welcoming these wonderful guests through the registration line is the highlight of all highlights.  I look forward to this all year long," Erickson said.
Hans Witten, commodore of the ALYC,  said: "25 years is a quarter of a Century. We just made history at the American Legion Yacht Club. Let's do another 25 years."
More than 30 of the estimated 200 or more guests were members of the Long Beach Blind Veterans.