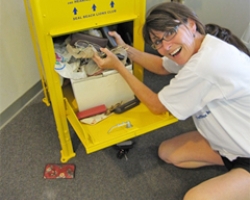 In 1925, Helen Keller challenged the Lions to be Knights of the Blind in the crusade against darkness.  Since that time, Lions Clubs worldwide have focused their efforts on preventing blindness and helping the sight impaired.
In support of California Lions Eyeglass Recycling Month, the Seal Beach Lions Club is asking people to look through drawers and closets for old, unwanted eyeglasses and donate them to the Lions Recycle for Sight program. We accept all types of glasses including those that might be broken.
The glasses will first be sorted by Seal Beach Lions and then sent to our Southern California Lions Friend in Sight Eyeglass Recycling Center where they will be cleaned, categorized by prescription and prepared for distribution by Lions.  Many of these eyeglasses will be distributed right here in Southern California at one of the Lions sight clinics scheduled throughout the year.
According to the World Health Organization, the eyesight of approximately one-fourth of the world's population can be improved through the use of a corrective lens.
You can drop off eyeglasses at one of our many eyeglass collection bins located at:  Baytown Realty on Main Street; the UPS Store on PCH and in the Target Center; The Seal Beach Yacht Club, US Bank by Leisure World; or the big yellow Lions Eyeglass and Hearing Aid collection bin located in the Leisure World Health Center.
Other recycle locations are listed on our website at: sealbeachlions.org.
For additional information or to have your eyeglasses picked up, contact Lion Laura Ellsworth at 562-708-9428.