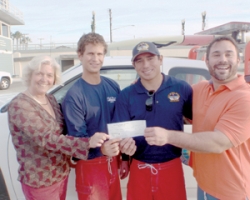 The Seal Beach Lifeguard Association recently donated $5,000 to the Seal Beach Victims Fund to support the families of the nine people who were shot in Salon Meritage on Wednesday, Oct. 12, according to a press release issued Monday, Nov. 28. The donation is part of an annual Lifeguard Associaion tradition, donating funds to local charities. The money for those charities has usually been raised at the annual Seal Beach Surfing Championship.
The waiting period for the next two-day event begins Jan. 7 and 8 of 2012, and runs through Feb. 25 and 26.  The event will be held on one of the weekends during this waiting period. Organizers apparently believe the waiting period will allow for the best possible surfing conditions.
This year contest directors have added a new "Best Trick Contest." The format for the contest will consist of a 30-minute heat and will be on a first come, first served basis.  The first 30 surfers to sign up will be able to compete.  Within the 30 minutes, the surfer to perform the best trick will win a new Body Glove wetsuit and a pair of booties.  Surfers must enter into the Seal Beach Surfing Championships in order to compete in the best trick event.
The 2012 Seal Beach Surfing Championships divisions will consist of: Men's Shortboard, Men's Longboard, Master's Shortboard, Master's Longboard, Seniors, Women, Juniors, Grom and Menehune.
With each entry, every surfer will receive a contest T-shirt and a meal at the awards banquet.  Sign-up forms can be found at local businesses, surf shops, and at the Seal Beach Lifeguard Headquarters at 888 Ocean Ave.  To enter the surf contest, go to the contest Web site sbsurfcontest.com, and download a sign-up form.
Sponsors for the 2012 Seal Beach Surfing Championships include:  Kanvas by Katin Surf Shop, Monstrositee LLC., Surfrider Foundation, Harbor Surfboards, Bruce Jones Surfboards, Chas Surfboards, Foam-EZ, R Payne Surfbaords, Labreau Shapes and Designs, Arbor Skateboards, Body Glove, Smith Optics, Champion Chiropractic, Get In The Wild, SnowBoarding.com, Seal Multi, Z Pizza, Hennessey's Seal Beach, Yucatan Grill, and hopefully more to come.