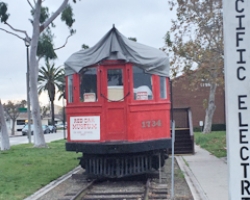 The volunteers of the Seal Beach Historical Society/Red Car Museum prides itself in the preservation and celebration of the history of Seal Beach and the legacy of the Pacific Electric Railway—the right of way which still exists and makes up the "greenbelt" in Old Town, a top favorite of locals.
For the New Year, the society invites the community to explore the Red Car Museum and donate to the mission of the society.
The Seal Beach Historical Society/Red Car Museum is a private membership 501c(3) nonprofit organization founded in 1971.
They are not owned, operated, or funded by the City of Seal Beach. Funding is provided by membership dues and donations only. They also do not have any association with the blue bathhouse that is located right next door. The society invites the community to stop by and tour the wonderful history they provide related to the Pacific Electric Railway and Seal Beach.
The Red Car Museum is open on the second and fourth Saturday of each month from noon to 3 p.m., except in November and December when they are open only on the second Saturday.
Group tours are also available, if scheduled in advance. Please call or email to schedule a group tour today.
The society said that they are always looking for high school volunteers. Contact the society directly for information on membership requirements.
They may be contacted via mail at P.O. Box 152, Seal Beach, CA 90740, or by phone at 562-453-9762, or by e-mail at sbhsredcarmuseum@gmail.com, and on social media at https://www.facebook.com/SBHSRedCarMuseum.