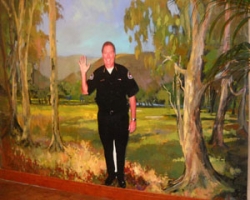 Former and current city and police officials gathered at the Old Ranch Country Club Thursday, June 16 to celebrate Seal Beach Police Chief Jeff Kirkpatrick's retirement. According to Sgt. Steve Bowles, who produced the event, 285 people attended the five-hour party.
The party, which included a fair number of affectionate jokes at the chief's expense, commemorated the conclusion of Kirkpatrick's 34-year career in law enforcement. He spent six of those years as chief of the Seal Beach Police Department.
Kirkpatrick waved at his granddaughter Abigail throughout the ceremony as he stood near the podium and received presentations and gifts from various officials. He was not allowed to speak until the end of the event.
"You only get one shot at the microphone," Sgt. Ron LaVelle told the chief. "We all know what will happen." The last comment was apparently a reference to Kirkpatrick's reputation for giving long speeches. Later, LaVelle said Kirkpatrick's undercover name was "Phil Abuster."
LaVelle said that when he asked Kirkpatrick what his proudest achievement of the last five years was, Kirkpatrick started going over the last five years in real time.  On that same note, Fullerton Police Chief Michael Sellers, Kirkpatrick's predecessor at Seal Beach, present Seal Beach Police Capt. Tim Olson with two timers—a 3-minute timer and a "3-year" timer.
LaVelle said that when Seal Beach officers learned then-Capt. Kirkpatrick was coming to join the Seal Beach force, they were concerned because "Star Trek" fans are not famous for their sense of humor.
Following a video presentation of his life story, Kirkpatrick wiped tears from his eyes before taking his place at the microphone.
"I'm almost speechless," Kirkpatrick said.
He asked the present and former members of the SBPD to stand up and take a bow.