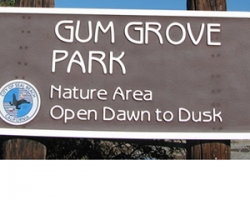 The Seal Beach City Council hired a construction company to rebuild the hillside between Gum Grove Park and Heron Pointe at the agency's Monday, May 9 meeting.
Post Earthworks Constructors, Inc. made the lowest of seven bids to fix the city park hillside. The winning bid was $64,392.86. The good news: the California Emergency Management Agency has told city officials that Seal Beach qualifies for reimbursement for the cost of the repair project.
The Gum Grove Park slope was one of two that failed during the January 2010 rains.
According to the staff report by Sean Crumby, director of Public Works, the storm was so severe that a tornado touched down in the south portion of the city.
During that time, the Heron Pointe Home Owners Association notified the Seal Beach Emergency Operations Center that two slopes had failed.
One of those slopes was in the city-owned Gum Grove Park.
"The city hired Leighton Consulting, a private geotechnical engineering firm, to evaluate the situation and provide recommendations," Crumby wrote.
Leighton recommended permanently repairing the hillside by replacing the existing soil with compacted soil.
According to the Crumby report, because the city activated its Emergency Operations Center and because the slope is on public property, the slope repair project fully qualifies for reimbursement.
Seal Beach has asked the Emergency Management Agency for $125,000 for the project. Those funds will include the cost of construction, inspection, materials testing and design fees.
The winning bidder, Post Earthworks, has done business with Seal Beach before.
"The low bidder currently contracts with the city for the beach berm and sand backpass," Crumby wrote. "Based upon the current work history and qualifications, staff deems their proposal the lowest responsive bidder and recommends awarding the construction contract to Post Earthworks Constructors, Inc. for $64,392.86."
The City Council apparently agreed.  The contract was awarded as part of the Consent Calendar. The council approves the Consent Calendar collectively, with no discussion of the individual items.