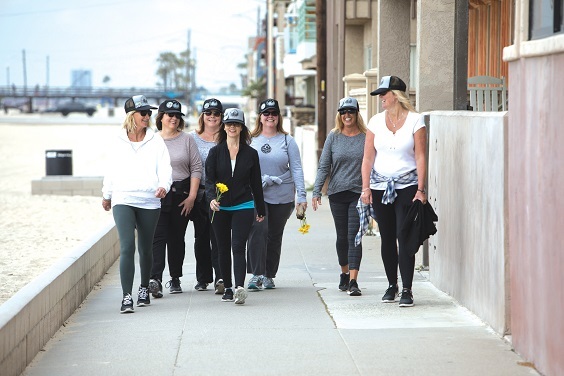 Hard to imagine, but nine months after she lost her life, Sarah Krueger is still making people smile. Though she was killed in a tragic pedestrian accident, her good natured spirt lives on in the minds and hearts of people who knew her best.
Of course, the sadness remains, but the wondrous gift of time has washed away enough of the grief for Sarah's friends and family to begin to remember her cleverness and wit.
"Sarah had an ability to make everyone laugh," recalls Tracie Steffen, a former co-worker and spokesman for a small, tight knit group of eight nurses that had their own special bond at Long Beach Memorial hospital.
To everyone, it seems, Sarah was a hoot. At home and at work, Sarah had an amazing wit and presence of mind to be able to reframe almost any situation into a smile.
According to her co-workers, even during the most serious situations at work, Sarah would somehow put it into perspective, get everyone to laugh, and then "come together" as a unit.
"No one was off limits for Sarah's jokes," recalls Tracie, "no one." Yet, says Steffen, "Sarah had the biggest heart and the biggest wit of anyone working at the hospital."
For instance, after a patient incident, Sarah might jump into a hospital wheelchair and imitate what had just happened; never disrespectful, but funny enough to break the tension with a reminder that life is too short to worry about such nonsense.
"Is it time to go home yet?" Sarah would joke after eating lunch.
The remaining seven members of Sarah's nursing group got together to remember her this past week. They walked to the scene of Sarah's accident at the corner of 12th and PCH in Seal Beach in honor of her 47th birthday that Sarah will never have an opportunity to experience. While her sudden death devastated the communities around Seal Beach and Long Beach, her friends miss her more today than the day she was taken.
"Sarah was such an amazing person," said Steffen. "She had such an amazing presence. Bigger than life," she said.
Sadly, she was struck within earshot of her home and died at the hospital where she worked for two and one-half decades. Once associated with the labor and delivery unit, Steffen said the group of eight nurses all worked in the mom/baby unit, where they cared for mom's and babies after the delivery.
Steffen's family and Sarah's family were best of friends. Her son and Sarah's son are the same age. She, and her friends, knew Sarah extremely well and even went on trips together.
"It was always family first for Sarah," said Steffen, a notion that her children also echoed in separate interviews. Steffen said Sarah's death "left a huge hole in our hearts," adding that "she was kind of a special glue holding a lot of people together."
Steffen and the other six nurses that worked for so many years alongside Sarah recently laid flowers at the scene of the accident and wore caps with a green arrow on them to put subtle pressure on CalTrans to install a turn signal at the intersection of 12th Street and PCH, where the accident occurred.
Sarah's ability to put her children's interest above her own was always on display, said Steffen, which she said resulted in "happy, well-adjusted kids."
Interestingly, Sarah's two daughters, Hailey 21, and Camryn, 16, said many of the same things this week. Sarah's husband Larry, profiled last week, has put his own career aside as a communications professor at Los Angeles Harbor College to step into the role their mom used to enjoy.
Even so, Krueger understands he will never totally be able to fill the void left by Sarah's passing, but he is doing as much as he can as a dad. The family is slowly getting back into their respective lives, having lost their own version of "Sarah's glue" in an unsuspecting instant.
Her two daughters can now speak about their mom, but their son Carson, 14, is mostly silent. The girls have undergone some grief counseling while Carson is simply not ready to talk about something so obviously hurtful.
They all seem to accept there is little they can do now but to individually find a way to heal their inner hurt and move forward with the life lessons Sarah taught them.
That being said, when Sarah Krueger was your mom, you rolled like none other.
"With mom, it was all about presentation," remembers Hailey, who had the benefit of Sarah planning her 21st birthday party not long before the accident. "Everything had to be just right."
Joking aside, Hailey remembers her mom as a "ray of sunshine," full of energy and who would "light up every room" she walked into.  Even though she is adapting, life without her can still be frustrating "Everyone needs a mom," she said.
Both daughters say they miss mom's cooking. Sarah was known to all as a "foodie." She was a great cook. When her friends were asked what was Sarah's favorite food, they said "what wasn't her favorite food?" as they laughed. "She had a diet of the week," said Hailey.
Few people knew that one of Sarah's favorite activates with her girls was their own version of 'carpool karaoke.'
With Hailey at the wheel, Camryn riding shotgun and mom in the backseat of mom's SUV, the girls would barrel down PCH, windows rolled down, hair flying, and they would sing at the top of their lungs their mom's favorite songs.
For sure, Sarah was no Taylor Swift but apparently, she couldn't care less what people thought of their singing, said Camryn. They would sing songs by Swift, Tracey Chapman, Luke Bryan and Rascal Flats, Sarah's favorites.
Now, the music is silenced, but the memories will live forever in their hearts.
Swim meets. Water polo matches. Whatever her kids needed, Sarah was always there for them. "It sounds corny," said Hailey, but "I miss everything about her."
For Camryn, still going through formative years, there is a million questions that only a mom could answer that can't be asked. Sarah "gave the best advice. I could talk to her about everything." Camryn said that her mom was even thinking ahead and had already suggested "Gigi" as her name for the grandkids.
Shortly before the accident, Camryn switched from soccer goalie to water polo. The Wilson sophomore said Barry O'Dea had just signed on as head coach and he too, had suffered a similar tragedy.
Both Camryn, and her dad, said O'Dea was a knight in shining armor following Sarah's accident, coming immediately to their home and then helping, and coaching, Camryn every step of the way.
"It was awesome to connect with someone at a different level," Camryn said of her coach.
Like Hailey, Camryn said she too "puts on a brave face" but knows in her heart that she's holding much pain deep inside. She admits that, at some point, "it will all come out."
What seems to get everyone through this tragedy is Sarah's force of will that her memories continue to demonstrate, even beyond her life.
Sarah created so many smiles, so many carefree memories and living examples of goodness that those that loved her have been able to recreate a path forward that seem to include many of her fondest footsteps.
Both daughters constantly feel their mother's presence. While on a cruise to Mexico with her friends, Hailey remembers a butterfly landing on her shoulder, then touching each of her friends only to depart into the thin ocean air.
"I couldn't stop crying," said Hailey. "I knew she was with me."
For Camryn, it was the final game of the CIF water polo finals in February. Despite her wobbly start as a water polo goalie, Camryn became, with her father's support, her coach's advice and her mother's inspiration, one of the best in the league.
As if it was the ending to a Hollywood movie, Wilson Bruins worked their way to the final playoff game with Harvard Westlake in the CIF-SS Division 3 championship game. The tension was palatable.
"I cried during the national anthem because I know how proud my mom would have been," said Camryn, but then she began to feel her mom with her in the pool.
After all, this was the biggest game of the season. This was for a championship ring. Camryn was nervous…until…she began to feel her mom's calming presence.
During the game, Camryn made 10 incredible saves, but the game was not yet won. In the final quarter, with Wilson up 5-4, the opposing Wolverines earned a penalty shot. Camryn said she reached out to her mom for help, "and I think she did." The shot went up and so did Camryn, stretching her body with an extension few had ever seen before as she blocked the shot and her saves securing the championship for Wilson 6-5.
"In my 22 years of coaching, I have never seen anything like what she (Camryn) has overcome," said O'Dea. "There's been a lot of crying and hugging," O'Dea was quoted as saying after the match.
Though they are coping, her husband, her children, her friends and family miss Sarah so much that they still feel the essence of her spirit. Their shared experiences point to a legacy of a life well lived, even if not long enough.
In almost every situation, Sarah's wit and charm made others feel better about themselves. Now that she's gone, her family and friends are learning, by her example, to never let a day go by without celebrating life itself.