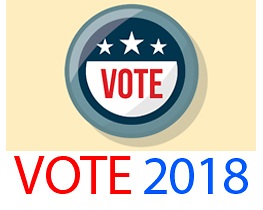 Not all votes have been counted but preliminary results are coming in for the Nov. 6 General Election. Here's a look at some races impacting Seal Beach, Los Alamitos and Rossmoor.
Seal Beach sales tax hike
Measure BB, the measure to raise the City of Seal Beach's sales tax by one percent, is heading for passage.
The latest results show 59 percent of voters approved Measure BB. That's with 19 of 19 precincts reporting. If passed, the sales tax in Seal Beach will rise from 7.75 percent to 8.75 percent starting on April 1, 2019.The city estimates the sales tax hike will bring in $5 million in new annual revenue. City staff and council members have signaled they want to hire new police officers with some of the Measure BB money.
"With the passage of Measure BB, the citizens of Seal Beach have sent a clear message that public safety in this community is a priority," Interim Police Chief Joe Miller wrote in a statement to the Sun. "We will work diligently with the community to make Seal Beach the safest place to live and visit."
Seal Beach City Council
As for Seal Beach City Council, it appears the District One seat will be headed to a runoff. Joe Kalmick is currently in the lead with 41.3 percent of the vote. Peter Amundson is in second place with 27.5 percent, followed by Scott Levitt with 24.6 percent, and John Waller with 6.7 percent. These are the results with all six precincts reporting. The runoff will be held Jan. 29. District Three Councilman and Mayor Mike Varipapa and District Five Councilwoman Sandra Massa-Lavitt cruised to reelection without opposition.
Los Alamitos City Council
In the race for Los Alamitos City Council, preliminary results show incumbent Shelley Hasselbrink and Mark Chirco as the top two vote-getters both earning 20.4 percent of the vote. Incumbent Warren Kusumoto had 17.7 percent, Dean Grose had 17.4 percent, Tanya Doby had 13.7 percent and Gisele "Gigi" Finch trailed with 10.2 percent.
Los Alamitos Unified School District
Measure G, the $97 million bond measure for the Los Alamitos Unified School District, appears to be passing with 57.3 percent of voters voting yes. That is with all 32 precincts reporting.
The Los Alamitos Unified School District Board race shows the top three vote-getters are very close. Marlys Davidson is in the lead with 26.3 percent of the vote followed by incumbent Diana Hill with 25 percent and fellow incumbent Dr. Jeffrey Barke with 24.9 percent.
Olaina Anderson had 17.2 percent and Connor Swan Smith trailed with 6.6 percent.
The top two vote-getters will gain a seat on the board.
Statewide races and measures
Statewide, Democrat Gavin Newsom won the race for California Governor.
In the race for the 34th Senate District, incumbent Republican Janet Nguyen had 54.5 percent of the vote over Democrat Tom Umberg's 45.5 percent with 313 out of 313 precincts reporting. Republican Tyler Diep was leading the race for the 72nd Assembly District.
Diep had 54.3 percent of the vote to Democrat Josh Lowenthal's 45.7 percent with all precincts reporting.
Proposition 6, also known as the Gas Tax Repeal, is failing with 55.3 percent voting it down. Also on course to fail is Proposition 10, the measure that would have allowed cities and counties to enact rent control laws.
Congress
The race for the 48th Congressional District, which covers Seal Beach, is too close to call.
At last check on Wednesday morning, Democrat Harley Rouda was leading incumbent Republican Dana Rohrabacher by a little more than 2,600 votes, according to the latest ballot count from the Orange County Registrar of Voters. It could take weeks before we get official results.
Nationwide, Democrats won enough seats to take control of the U.S. House of Representatives while Republicans picked up seats to further cement their hold on the U.S. Senate. Democrat Dianne Feinstein was re-elected to represent California in the U.S. Senate.
The Orange County Registrar of voters will continue posting updates of the election results daily by 5 p.m. until the last official results are posted.
For the latest updates, visit https://vote.sos.ca.gov and for local races visit https://www.ocvote.com/fileadmin/live/gen2018/results.htm#c-2099.