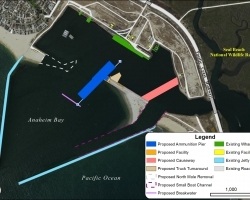 A Seal Beach resident recently raised safety concerns about the Naval Weapons Station Seal Beach. In response to questions from city officials, a spokesman for the Navy base said the public is safe.
In late October, Ed Shroeder, of Old Town, asked the City Council to ask questions about a safety waiver granted to Seal Beach Naval Weapons Station.
"Generally, safety buffer zones are located entirely within base property," according to Gregg Smith, the public affairs officer for the Navy Base.
After the meeting, city officials apparently asked for a response from Smith, public affairs officer for the navy Base. Smith shared his response to the city with the Sun.
"However, we do have two cases of public transportation routes going through base property (the public boat channel and PCH). For these two cases, we have an explosives safety exemption, which is granted by the Chief of Naval Operations after an analysis of the potential risk. The proposed ammunition pier project would move our munitions operations further from both the boat channel and PCH, eliminating the need for those exemptions," Smith wrote.
Shroeder said the ammunition pier was "within a stone's throw" of public areas.
"I have a real fear for our safety," he said.
He said in its latest report, the Navy admits it cannot and does not plan to operate within normal safety guidelines.
"We have no idea what risks we're being exposed to," he said.
He said the weapons station was built when the area was undeveloped.
Shroeder also expressed concern that the Navy base was on the Newport-Inglewood fault.
"This is one reason why we are trying to build a new pier that will be able to withstand earthquakes on known fault lines, including the nearby Newport-Inglewood," Smith wrote.
Smith also disputed Shroeder's belief that an earthquake would cause the NWS to drop 3 feet. After disputing it, Smith wrote that a 3-foot drop would not cause munitions to explode.
"I think the traditional view of ammunition and explosives is that they are very sensitive to drops, pressure, fire, or any adverse condition, and that they are almost as dangerous to the user as they are to the target," Smith wrote.
"This used to be true. During WWII, ammunition explosions during combat and in accidents led to many US losses," Smith wrote. According to Smith, munitions were redesigned after World War II to remain safe after being dropped or exposed to bullets or fire," Smith wrote.
Shroeder told the council that the Navy is required to have thousands of acres of buffer zones.
However, Smith told Seal Beach officials that this was incorrect.
"Mr. Schroeder quotes an op-ed written by the base commanding officer. In it, our CO states that weapons stations require thousands of acres of open space for buffer zones. The CO was referring to the total space needed for all buffer zones throughout the base, not the space needed for each buffer zone," Smith wrote.
"The amount of explosives positioned at any one location is required to be limited to a quantity that would minimize potential for damage outside of the safety buffer zone, even in a hypothetical worst-case accident," Smith wrote.