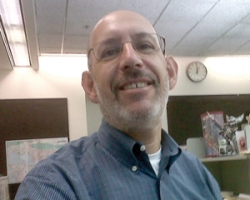 Rossmoor resident Jerry Hirsch has won the 2010 Rossmoor Homeowners Association fiction writing contest for his entry, "The Most Beautiful Dog in Rossmoor."
Hirsch's story tells about the perilous life of a stray dog, who wanders the streets of downtown Los Angeles and is later captured by animal control officers.
The dog eventually ends up in a shelter it describes as the Guantanamo Bay for dogs, before it is adopted and brought to Rossmoor.  "Paris Hilton couldn't have it any better," the dog says about its life in Rossmoor.
Susan Denley, the judge of the contest and a long time features editor, said, "In less than two pages, it spins a tale of a dog's picaresque journey from mangy dog-nap victim to the most beautiful dog in Rossmoor."
"I really got the sense of this dog as a character, which can be hard for a writer to pull off with an animal narrator." Denley said. Hirch's story goes beyond just a tale about one white husky and addresses the larger issue of inhumane treatment of animals, she adds.
The Rossmoor Homeowners Association has sponsored the fiction writing contest for two years, appealing to residents with a good yarn to tell or a desire make a statement. Hirsch's story will be published on the RHA Web site, www.rossmoor-rha.org. Hirsch will receive a $150 gift certificate to the Fish Company for winning the contest.
Details on next year's contest will be announced in February.