The Rossmoor Community Services District celebrated the grand opening of its newly upgraded Rossmoor Park Community Center on Saturday, Jan. 23.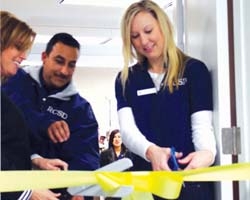 Local residents and dignitaries joined with staff and board members and enjoyed refreshments.
The project was the first major renovation of the Community Center since it was made into a park and the building was constructed in 1978.
Rossmoor Park, originally named James Wilson was a designated school site until 1974 when the
school district considered the addition of another school in Rossmoor unnecessary.  Upgrades to the center include a remodeled kitchen, indoor and outdoor restrooms, new paint, doors and carpeting.
The building now complies with current ADA standards. The center also serves as the main site of the Youth Center's Summer Camp and serves as a Snack Shack to the Los Alamitos Girls Softball League.
The Community Center is also available to rent for celebrations such as a birthday party or to host a meeting. For more information, visit the Web site at www.rossmoor-csd.org.