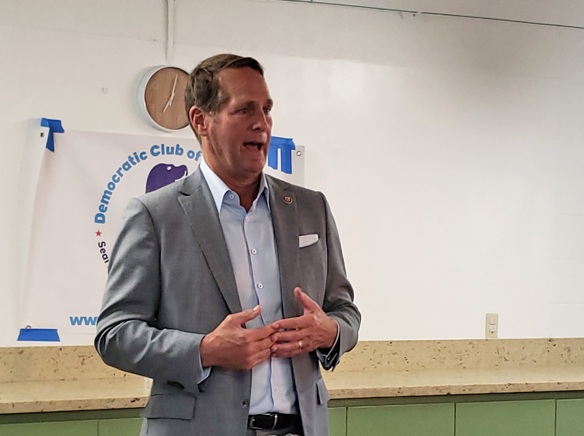 The Democratic Club of Seal Beach welcomed Congressman Harley Rouda to its Tuesday, Aug. 20, meeting.  Rouda was met with enthusiasm, gratitude, applause and laughter by the hundred or so members who attended. He returned the favor by thanking the club for their extraordinary support in  the mid-terms which contributed to the countrywide "blue wave."
Rouda was both erudite and eloquent as he covered a variety of substantive issues such as the skyrocketing deficit, healthcare, and immigration.  He explained his recent support for starting impeachment proceedings against President Trump.   He justified his reasoning by pointing to Trump's continued attempts to push back on any investigation after the release of the 448 page Mueller Report which confirmed Russian interference in the 2016 elections and detailed at least 10 instances of possible or probable obstruction of justice.  Rouda sits on the powerful House Oversight Committee which oversees investigations.  When asked if he feared this might hurt his chances in 2020, he declared it didn't matter – at least he knew he would sleep better having done the right thing.
On a positive note, Rouda expressed hope that Democrats and Republicans could come together on some issues including immigration. The audience nodded in agreement when he suggested that toning down the rhetoric on both sides could open the way for bipartisan support for reforms that could lead us out of the current quagmire.  Sadly, he was less sanguine about moving forward gun legislation to impact the United States epidemic of gun violence.
Rouda is proud of his role with the freshman class of 2018 in moving well over 200 bills through Congress.  He again referenced bipartisan support for the vast majority of those bills demonstrating the two major parties can work together.  He expressed disappointment that partisanship still roils the Senate with only 15% of the bills getting a hearing.
Following Congressman Rouda's talk, club member Olaina Anderson presented a slide show covering the recent Moms Demand Action for Gun Sense annual conference she attended in Washington DC.  Their purpose was tragically reinforced with the news of the El Paso massacre adding a somber note to an otherwise upbeat conference.
The Democratic Club of Seal Beach meets at 7 p.m. on the third Tuesday of every month at the Rossmoor Community Center.  For more information, the website is demsealbeach.org.
By Cathy Goldberg for the Democratic Club of Seal Beach