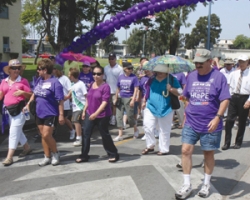 Throughout the night they walked.
It was all they could do, if nothing else, to raise money to fight the anger, the desperation and the feelings of helplessness that come when you or someone you know is diagnosed with cancer.
And so it was that Los Alamitos – Seal Beach and Rossmoor residents came together for the fifth annual Relay For Life.
With support from community members' donations they raised more than $57,000 to fight against the quiet killer. They walked until their feet burned in pain to help create a world they say "with more birthdays."
This past weekend's fifth annual American Cancer Society Relay For Life raised the funds to support the Society's mission of saving lives from cancer. It left volunteers and participants exhausted, but happy after walking throughout the night doing what they could, all in the hope to find a cure.
"Through their hard work in preparing for the event, and by spending hours walking for the cause, participants certainly did their part to help the American Cancer Society create a world with less cancer and more birthdays," said Anna Marie Cohen, this year's event co-chair.
The top individual fundraiser was Jon Lei, who collected $2,967 in donations. The top fundraising team was team GCS (Grace Christian School), led by Renee Leibowitz, which raised $6,947.57.
More than 550 people, represented by 35 teams, participated in this year's relay event. The teams were comprised of area families, faith-based groups, businesses, clubs and other organizations.
"It is a team event and would not be possible without the support of local businesses, our team captains for their leadership, our participants for their participation, our survivors for their time and strength, my committee for their passion and dedication, and for all the volunteers for their support" said Cohen."
Thanks were offered to everyone's hard work and support, the American Cancer Society is helping people facing cancer and saving lives by funding groundbreaking research, educating the public about cancer prevention and early detection, advocating for better laws that protect people from cancer, and providing free programs and services that help people facing cancer right here in our own community.
Together we are making progress, and together we will defeat cancer.
Because of you, lives are being saved and changed. Because of you, the hope for a future without cancer is alive and will be strong into the future. To learn more about Relay For Life, visit www.RelayForLife.org
http://www.relayforlife.org or call 800-227-2345.
The American Cancer Society combines an unyielding passion with nearly a century of experience to save lives and end suffering from cancer.
As a global grassroots force of more than three million volunteers, it fights for every birthday threatened by every cancer in every community.
As the nation's largest non-governmental investor in cancer research, contributing about $3.4 billion, we turn what we know about cancer into what we do. As a result, more than 11 million people in America who have had cancer and countless more who have avoided it will be celebrating birthdays this year.
To learn more about us or to get help, call us anytime, day or night, at 1-800-227-2345 or visit cancer.org."
Laura Herzog is the marketing chair for the local Relay For Life.