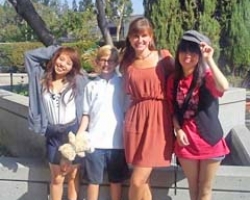 Tiffany Sickler has been a familiar face in Seal Beach for years. She put herself through school when she was in her 20s, working at Hennessey's, O'Malley's and the Seaside Grill. But it is what she's made of her life after waitressing that makes her extraordinary.
Today, Sicker, 44, is the program director for Home Forever, a non-profit that bills itself as "Permanency Advocates for Children." The lithe, poised woman possesses a PhD in clinical psychology, as well as other degrees. And she knows the ins and outs of the foster system: she fostered 12 children over the years, and ended up adopting two of them.
"I first fostered the two sisters when they were young teens. Siblings are not always able to stay together," Sickler said. "They had been in many foster homes and today both girls are college graduates."
Sickler was never a foster child, but she was in a residential boarding school from the age of 11.
The foster family advocate married and had a son. When her marriage ended in divorce she decided she would foster children, never expecting that it would be so many, or that she would end up providing a permanent home and adopting two of them. With a passion for the cause, Sickler made it her life's work.
"After I got my Master's degree, I started working for a foster family and adoption agency where I helped a number of other Seal Beach locals prepare to foster and adopt THEIR children." Her job today at Home Forever seems a perfect fit, as she is the ideal resource for every aspect of fostering and adoption.
Sometimes foster parenting can be tricky, and Home Forever provides resources for families seeking help or support. They maintain a "foster closet" full of clothes that may be needed on a moment's notice; advocate for families; set up support groups; fill needs the parents can't; and most importantly, spread awareness of the needs of foster families. Sickler said it is easier than ever to become a foster parent. In fact, there is a dire need for people willing to foster a child. In the United States alone there are over 400,000 children in the foster care system and 104,236 waiting to be adopted. Of those eligible for adoption in the US last year, only 49,866 children found permanent families.
Without the necessary tools to make it on their own, 40-50 percent will be homeless within 18 months. In addition, their lives will often be marked by crime, lack of education, unemployment, imprisonment, addiction, and teen pregnancy.
From its web site, this is how the organization is described. "Home Forever is part of a larger extraordinary group of ordinary individuals who believe we can create alternate histories for kids and therefore change the world. We are people who decided to take the time we have on this planet to restore things to the way they were meant to be. We wish to bring life and flourishing to children, our local community and our world."
Tiffany Sickler is certainly part of that extraordinary group. Anyone interested in fostering, or with general questions, can call Sickler at 310- 926-3016.

Editor's note: This article has been updated to correct an error that appeared in the print edition concerning where Tiffany Sickler lived from the age of 11.