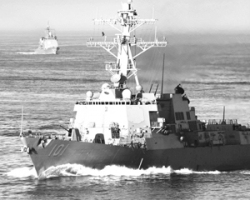 The public will have a unique opportunity to visit an advanced U.S. Navy warship and meet her crew at the Seal Beach Naval Weapons Station on June 19 and 20.
The guided missile destroyer USS Gridley (DDG 101) will be open for weekend public visitation, with Saturday tours given from 10 a.m. to 2 p.m., and Sunday tours provided from 10 a.m. to 1:30 p.m.
Hands-on displays of other Navy and Marine Corps equipment will also be available, including Marine Corps and SEAL vehicles, as well as high-tech motion ride chair simulators with vision goggles.  Music will be provided by members of Navy Band Southwest.
"The Gridley is a sister ship of the USS Dewey, which was commissioned here on base in March," said base spokesman Gregg Smith.  "This will be a great opportunity to see the same type of ship for those who were unable to attend the commissioning event."
The tour is free of charge and no reservations are required.  Cameras are permitted, and walking shoes are highly recommended.  No backpacks or handbags will be allowed on board the ship, and the vessel is not accessible to the handicapped.  Public entry will only be available via the station's Wharf Gate, located on Seal Beach Boulevard, 200 yards south of the Pacific Coast Highway intersection.  No access will be available from the station's Main Gate.
Commencing operations in 1944 as a U.S. Naval Ammunition and Net Depot, Naval Weapons Station Seal Beach is the Pacific Fleet's premier ordnance loading and storage installation.  The base provides munitions for a majority of the fleet's surface ships, and services approximately 50 U. S. Navy vessels annually.  More information on USS Gridley can be found online at http://www.gridley.navy.mil.