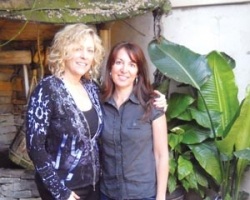 The 4th annual Long Beach firefighters and friends event benefiting brain cancer research at UCLA will be held today at the popular Seal Beach pub—"a place called O'Malley's."
It is the work of Cindy Atkinson and Cris Zavaleta—two women on a mission.
They and their benefactors are known as the "Cranium Crusaders" and are an official UCLA support group for brain cancer.
Their fundraising efforts are aimed at raising money to help extend the lives of those diagnosed with the deadly disease of brain cancer. They also help fund brain cancer research at UCLA.
"From what I can tell, it's the most cutting-edge medical institution in the country," Zavaleta said. "We have one simple mission—to find a cure—and we're doing it the only way we know how, by raising money."
O'Malley's on Main, 140 Main Street, in Seal Beach, is the site of today's event. The establishment is co-owned by Brian Kyle and Atkinson, whose husband, Tom, lost his life in August, 2006, to a Glioblastoma. Atkinson was Kyle's lifelong best friend and business partner.
Cris's husband, Hank Zavaleta, was a Long Beach fire captain diagnosed with the same disease nearly seven years ago. By raising money for a cause so close to their hearts, Atkinson, Kyle, and the Zavaletas hope to spread the word about brain cancer; share survivors' concerns and fears; and spread hope for a cure.
The O'Malley's on Main event began four years ago as a kick-off fundraising event for the Tom Atkinson Memorial 5K. The blow-out party from 5 to 9 p.m. on Thursday, April 29, features dozens of prizes ranging in value from $10 –  $1,000.
This year's Tom Atkinson Memorial 5K event, which also features prizes, will follow on Saturday, May 8, at Long Beach Veterans' Stadium. The date marks the seventh anniversary of Hank Zavaleta's diagnosis.
For more information about Cranium Crusaders, including events, contacts, and how to donate, visit www.craniumcrusaders.org.