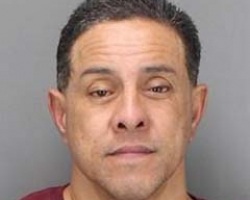 Seal Beach Police report they have identified three individuals as suspects in the recent armed robbery of a local Sprint Store. On Tuesday, Feb. 6, the Santa Barbara Police Department and the California Highway Patrol arrested Vaafatu Mativa 35, of Carson, and Tafilele Puaauli, 45, of Harbor City, after they were identified as possible suspects in a cell phone store robbery in Santa Barbara.
According to a statement issued by the Seal Beach Police, Crystal Viramontes, 29, of South Gate, was identified as an accomplice and arrested by the Los Angeles County Sheriff's Department later that day. Firearms and stolen property were recovered as a result of the arrests and subsequent search warrants.
The investigation and arrest of the suspects was a combined effort the Seal Beach Police Department, Santa Ana Police Department, Los Angeles Police Department, Los Angeles County Sheriff's Department and Pomona Police Department.
According to Santa Barbara Police, on Feb. 6, two men entered a Sprint Store on State Street, brandished a firearm and locked two lone employees inside a bathroom. The suspects retrieved an a number of Apple products valued at approximately $130,000 and left out the back door to a city parking lot where a car was waiting for them.
On Jan. 28, a similar crime occurred in Seal Beach: two armed men entered a Sprint Store on Seal Beach Boulevard and forced the employees to the back of the store. The suspects robbed the employees as well as the store safe, which contained miscellaneous cell phones and electronics.
Police are asking anyone with information about this crime to call SBPD Detective Jeff Gibson at 562-799-4100 Ext. 1109.