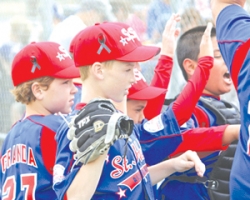 Stunned by the tragic and untimely death of Officer Andrew Garton who died of injuries in a motorcycle accident while on duty for the Hawthorne Police Department, the St. Hedwig Pony Baseball league rallied recently to raise funds for the Garton family.
The Garton family is active in the St. Hedwig league and both sons, Garrett, 12 and Grant, 7, played in the league this year.  To honor Andrew Garton, all of the St. Hedwig players in the All-Star Tournament at St. Hedwig this week donned black ribbons on their baseball caps.
The league is accepting monetary donations for the family as well as selling tickets for a 50/50 drawing where proceeds will be split between the winner and the Garton family.
Ticket sales will be on-going through the end of the Tournament on June 17, whereupon the winning ticket will be drawn. The Hawthorne Police Department and SWAT team will be at the St. Hedwig field on Saturday and Sunday, June 11 and 12 throughout the day to show their support for the cause and the Garton family.
More details on the fundraiser and the tournament can be found on the St. Hedwig Baseball website: www.sthbaseball.com or by contacting Dr. Ed Harkins at (562) 505-4535 or email: DrEdHarkins@gmail.com.