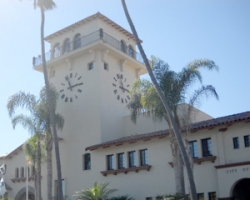 On May 6, 2017, the City of Seal Beach in conjunction with a volunteer time capsule committee will be placing a new time capsule at the front entryway of City Hall. In October 2015, as part of the city's Centennial celebration, a prior time capsule from 1967 was unearthed, and the contents were shared with the community at the City Hall Centennial Open house.
Community members of all ages are invited to donate items for inclusion in the time capsule. It is the intent to unseal the capsule 50 years from the Centennial. We anticipate our future citizens opening it on Founder's Day, October 27, 2065.
Suggested items must be small enough to fit in a rectangular box with interior dimensions of 16 inches by 16 inches x 30 inches and be from the period of January 2015-December 2016 and be related to the Centennial year.
The contents must also relate to one of the six categories selected for public input by the committee.
We are looking for input from businesses, the schools, military, churches and service organizations. Following are the categories with some examples:
• Community Groups – (Lions, Run Seal Beach, Women's Club, etc.)
• Education and Schools – (Los Alamitos Unified School District schools, school board, district office, Los Alamitos Education Foundation, etc.)
• Religious Institutions – (Churches, temples, etc.)
• Business – (Chamber of Commerce, individual businesses, business events, etc.)
• Military – (Naval Weapons Station – Seal Beach, veteran's groups, etc.)
• Technology – (Music playlists, electronic photographs, thumb drives, CD/DVDs, etc.)
Additionally, two other categories, the City of Seal Beach itself, and the Centennial Committee will include items relevant to their areas of interest and contribution over the same period.
The deadline for submission is April 17, 2017. The volunteer committee will decide on the final items to be included in the time capsule.
Please drop off your item including the name of the person submitting and a brief statement of the item's significance at Seal Beach City Hall, City Manager's Office (211 Eighth Street). Everything should be in a sealed envelope or box addressed to Centennial Time Capsule Committee. If we are not able to put all of your items in the time capsule, please include a note prioritizing what is most important. Also, please include a contact name, address and email in case we need to return anything.
More information about the time capsule can be found on the city's website at www.sealbeachca.gov.