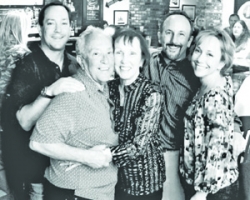 Family-owned and operated Naples Rib Company, a community-focused barbeque and catering restaurant, celebrates its 30-year anniversary in November by donating 20 percent of all dine-in and take-out sales to 30 local and national charities.
The program runs November 1-30, 2013 at both Naples Rib Company in Long Beach and at the family's second location, Newport Rib Company in Costa Mesa, CA.
"We enjoy being able to give back the community that has supported us over the past 30 years." said Dave Ursini, co-owner of Naples and Newport Rib Company.
"There are so many non-profits doing amazing work in our community so it is a privilege to contribute to their missions," he said.
"Many of the charities were selected because our family, customers or employees have been positively affected by them," said John Ursini, co-owner of Naples and Newport Rib Company. "For example, one of our loyal customers has Type 1 diabetes (T1D) and is very careful about her dietary choices. Supporting JDRF (Juvenile Diabetes Research Foundation) who leads the charge in finding a cure for this disease is one way we can give back," Ursini said.
Naples Rib Company, founded in the early 1980s, is family-owned and operated by the Ursini family. Founded by patriarch Fran Ursini, Newport Rib Company, located in Costa Mesa, and Naples Rib Company, located in Long Beach, specializes in the finest barbeque in Southern California. Services include dine-in with a full bar, take-out and event catering. Today, Fran's sons, John and Dave Ursini, operate the restaurants with the assistance of their sister Laura.
The 30 charities to benefit from Naples Rib Company's anniversary celebration are:
1. ALS
2. Alzheimer's Association
3. C.A.R.E
4. Celiac Disease Foundation
5. Children Today
6. CSULB Athletics
7. Cystic Fibrosis Foundation
8. Food Finders
9. For the Child- Mental Health Care
10. Grand Prix Foundation of Long Beach
11. Hotline of Southern California
12. JDRF (Juvenile Diabetes
Research Foundation)
13. Justin Rudd's C.A.T.
14. Kure It- Rivals United for a Kure
15. Long Beach Museum of Art- Buy a Bus Program
16. Long Beach Opera
17. Long Beach Police Widows &  Children
18. Los Cerritos Wetlands and Trust
19. McKenna Claire Foundation
20. National Charity League- South
Coast Chapter
21. Pathways to Independence
22. Pediatric Intensive Care Unit at Miller Children's Hospital Long Beach
23. Ronald McDonald House- Long  Beach
24. Rotary Club of Long Beach
25. Seal Beach Animal Shelter
26. Surfrider Foundation
27. Susan G Komen
28. TACA (Talk About Curing Autism)
29. WomenShelter of Long Beach
30. Wounded Warrior Project
Naples Rib Company will highlight the charities throughout the upcoming months on its Facebook and website pages.
For more information about Newport Rib Company's 30 Days of Charity, go to:
www.ribcompany.com, www.facebook.com/naplesribcompany or www.facebook.com/newportribcompany.