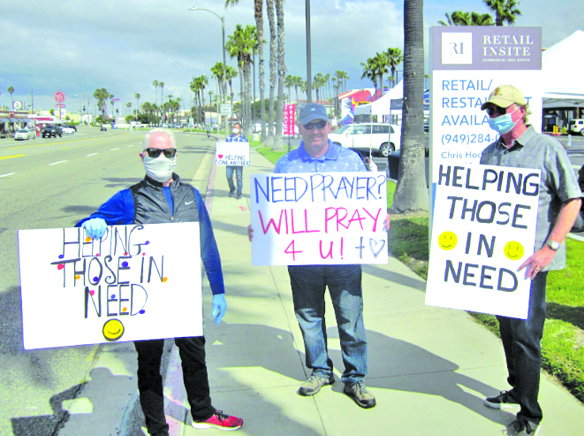 There have been more than 1,000 donations to Sunset Beach's Calvary Chapel of the Harbour's Food Drive, which started on Easter to help the community effected by the pandemic.
Senior Pastor Joe Pedick said he's thrilled that so many members of the church and neighborhood have come to the Food Drive Tents off Pacific Coast Highway at Peter's Landing and donated Canned Tuna, Chicken, Gourmet Relish, Paper Towels, Kleenex, Gift Cards, Bottled Water and so much more for the less fortunate.
"We're overwhelmed by the response, showing just how much people care for helping each other," Pedick said. "The church is reaching out, including to people who aren't able to get out. We're even delivering to those most in need."
"Grateful residents say it's such a Blessing being able to get local help in these tight, difficult economic times," said Assistant Pastor Chad Harris, who was helping collect food and other items. "We're able to see what a difference it's making in daily lives."
"This is a real Godsend for our family and we're grateful for the community's  outpouring of love," said one local, who was laid off because her business was closed due to the virus.
The church will be distributing donations by appointment through April. Their number is 562-592-1800. They are still accepting donations on Sundays from 9-1 and Tuesdays and Thursdays from 10-2 in April.
The church is very grateful to Peter's Landing owner Kevin Hayes and his staff for allowing the erection of  tents in the parking lot off Pacific Coast Highway. "We want to continue to be a blessing to our community," said Assistant Pastor Craig Peterson. "We realize we're living in unprecedented times and in the words of Jesus,  we want to 'love our neighbors as ourselves."
Orange County Supervisor Vice Chair Michelle Steel, HB City Councilman Patrick Brenden and many others from the church and neighborhood, volunteered their time on Easter to be a part of this worthy cause.