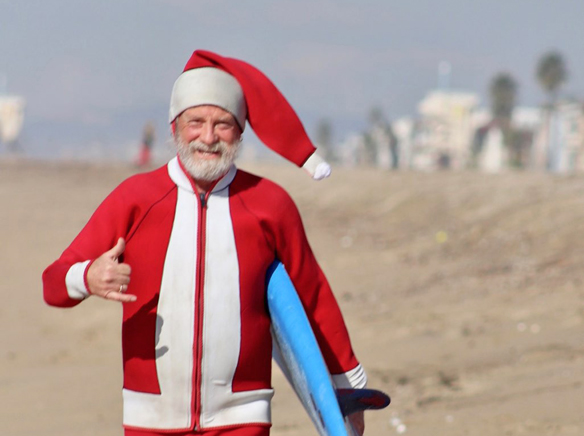 Half a century ago, Lakewood resident Michael Pless Sr.,  now 69, launched a Seal Beach tradition. One winter in 1969, he donned a Santa suit and went surfing. Seal Beach's Surfin' Santa was born.
Pless Sr. told the Sun he did it to bring the "joy of Christmas to the beach."
His Surfin' Santa tradition indirectly inspired another local tradition: the Sun's annual Surfin' Santa Coloring Contest.
As reported last week, an injury kept him off the surfboard this year, but his son Michael Pless Jr. put on Santa's outfit and took to the waves to keep the 50-year-old tradition alive.
Pless Sr. began surfing 58 years ago, just a tad longer than he's been Surfin' Santa. He has been teaching surfing for the past 37 years. He and his son operate M&M Surfing School.