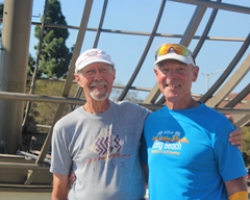 If you ask most 80-year-olds what they're doing this Sunday, they probably won't say they are running a marathon or half marathon. But that's exactly what Leisure World residents Ken Purucker, 80, and Tom Pontac, 81, are planning.
The octogenarians are signed up to run in the Jet Blue Long Beach Marathon and Half Marathon on Oct. 8. But the most amazing part of their story is that they've raced every year since the competition started back in 1982.
Purucker and Pontac are part of a group of "legacy runners" who have finished every race since the competition's inception.
I met the fit gentlemen on a sunny morning last month next to the Leisure World globe. Purucker was wearing a shirt from the first Long Beach Marathon in 1982. "That's from when you had to finish to get a shirt!" Pontac exclaimed. Pontac was wearing the shirt from last year's race. Both men started competing in marathons when they were in their 40s.
Purucker was motivated to live a healthier lifestyle while Pontac was looking to pursue a personal passion that was just for him.
Purucker, a retired dentist from Long Beach, said he's run 57 marathons in his life and every single Long Beach marathon. Pontac said he's run more than 270 races of varying lengths. Up until two years ago, he had finished every Long Beach Marathon. A diagnosis of Parkinson's disease and a battle with cancer forced Pontac to switch to the half marathon. The health challenges didn't slow him down too much.
"In 2015, I had 44 radiation treatments and seven weeks later did the half marathon," Pontac said, beaming.
The men train by running three to four times a week and often log runs of up to four hours. Neither has suffered a serious injury during all of their years of running.
So what keeps them running? For Purucker, it's his Christian faith.
"The Lord says 'live each moment.' That's what I do. I run for the pleasure of the Lord," he said.
Pontac said running brings him joy. "There's a special feeling of being alive when you're running these races," said Pontac. "You feel like part of the world and God and you are the race. Anything is possible."
They also have a lot of support from their wives, children and grandchildren.
Purucker and Pontac are part of a shrinking club of legacy runners for the Long Beach Marathon. According to race organizers, only 15 legacy runners are signed up for the competition this weekend. In 2001, there were 23 legacy runners competing. And this year may be the last marathon for Purucker. "I wanted to complete the last one when I was 80. And I'm looking forward to going to the half marathon. I shouldn't say that," he proclaimed and then paused to laugh, "but I've been running [marathons] long enough."
In addition to the race in Long Beach, there's also a two-day Health and Fitness Expo at the Long Beach Convention Center, Hall C. The Expo kicks off Friday at noon until 7 p.m. and continues Saturday from 9 a.m. until 6 p.m. For more information visit: www.motivrunning.com/run-longbeach/event/expo.