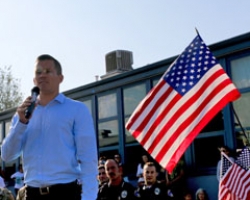 A tribute to the lives lost during the terrorist attacks that took place on Sept. 11, 2001, was held at a local elementary school this week.
McGaugh Elementary's ceremony to honor Americans who died that day, was attended by local dignitaries such as Councilman Mike Varipapa, City Manager Jill Ingram, Orange County Fire Authority Division Chief Robert Acosta and many more.
There was also a special speech by Griffin alumnus and former Air Force pilot Nathan Welch who said "I know for all of us, this day will stir in us a sense of longing and sorrow, a rush of patriotism, and the hope for a peaceful tomorrow." Welch, who attended McGaugh as a child, inspired the crowd to think deeply about how such a tragic event brought the country together.
"Yes, we all remember 9/11, but do you also remember 9/12? Do you remember the love you felt for your fellow man? How you let someone go ahead of you at the checkout line, held a door open and didn't care how long it took, or called someone to tell them you were thinking about them just to brighten their day," Welch said.
"The bad people on 9/11 did what they did to sadden us and tear us apart. But we chose love, we stood together, and we became even stronger than before. It's something I hope we never forget."
Many McGaugh classes paid their own tributes to those affected by Sept. 11.
A fourth grade class presented a tribute to firefighters, other classes sang songs, and the entire fifth grade class sang the Schoolhouse rock preamble.
It was a day to remember the selfless sacrifice of so many and a day to remember that we are all united as Americans.