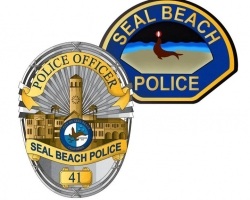 On Friday, Dec 28, 2018, at approximately 11:01 a.m., the Seal Beach Police Department responded to the Denny's Restaurant located at 2940 Westminster Ave. regarding a reported theft of a cell phone.  A suspect entered the restaurant and grabbed an Apple iPhone cell phone from the victim's hand.  Taking property by force makes the theft qualify as a robbery, which is how the SBPD described the crime in its press release about the crime.
The suspect ran out of the restaurant and entered a dark grey, Toyota, four-door sedan driven by a second suspect, and fled eastbound on Westminster Avenue.  The loss was a $1,000 Apple iPhone 10.
Suspect descriptions:
Suspect one is described as male, African American, late teen to early 20s, 5 feet 10 inches, medium build, a beard, wearing camouflage pants and a black hooded sweatshirt with a large, white Puma emblem on the front.
Suspect two (driver) is described as male, African American, late teens to early 20s wearing a burgundy hooded sweatshirt.
Police are asking anyone with information related to contact Detective Jeff Gibson at 562-799-4100 ext. 1109.