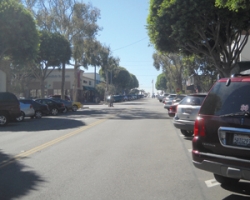 The Seal Beach City Council decided unanimously on Monday, Oct. 25 to have the Main Street Specific Plan reviewed by the General Plan/Local Coastal Plan Committee.
City staff had originally advised the council to create a new committee for the Specific Plan, which influences planning decisions about the business district.
"Over the past few years there has been renewed discussion about the adequacy of the MSSP relative to mix of uses, the number of alcohol licenses, A-frame signs and parking," wrote Mark Persico, director of Development Services in his staff report to the council.
Staff recommended forming a new Main Street Specific Plan Committee.
According to the Persico report, there have been three different committees over the last 25 years to look at downtown business activity. There was a 15-member committee in 1983, a nine member committee in 1989 and a seven member committee in 1991.
Outgoing District 1 Councilman Charles Antos, however, disagreed.
"I see no reason to create a separate committee to look at three blocks," Antos said.
Instead, Antos suggested using an existing committee to address possible changes to the Main Street Specific Plan.
District 3 Councilman Gordon Shanks also opposed forming a new committee. He also said action on any changes to the Main Street Specific Plan should be left to the new council member for District 1. Main Street is located in the first councilmanic district.
Shanks was referring to the fact that Antos has reached his term limit and cannot continue on the council. Four candidates battled for his seat in the Nov. 2 election.
Antos moved to have the Specific Plan go to the General Plan Committee. The council approved the motion 5-0.
In related news, the council also voted unanimously to have the Planning Commission define the term "enclosed."
This was apparently related to continued complaints from a resident to the council concerning the Main Street Cylery. The bike shop and some residential neighbors have been at odds for at least two years.
One of the issues centers around complaints that neighbors can hear noise from the bike shop when the back door is open. The bike shop has a large, rolling back door. The Seal Beach Municipal Code requires business activity to be conducted within an enclosed space.
However, there have been complaints that bike shop employees work with a large, rolling back door open.
City Attorney Quinn Barrow said that the bike shop no longer uses the alley behind the business to work, but works with a rolled up back door open.
Neighbors argue that the word "enclosed" in the Municipal Code requires work to be done with doors and windows closed.
District 5 Councilman Michael Levitt asked what definition of "enclosed" the enforcement officer was using.
Antos said the city attorney and the enforcement attorney could not agree on a definition of "enclosed."
Barrow said he wanted the council to direct the question to the Planning Commission.
The Persico report suggested having the Planning Commission "consider amendments to the existing Specific Plan to ensure that commercial uses are compatible with adjacent residential uses."