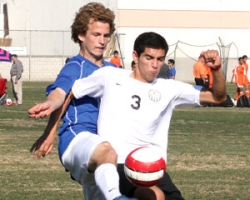 Los Alamitos High's boys soccer team went 3-2 at the Marina Tournament last week and finished sixth in the 19-team field.
The Griffins won their pool with victories over Compton and Crespi, but fell short, 1-0, against Dominguez in the Championship bracket first round.
The Griffins bounced back with a 1-0 win over Buena Park to reach the fifth place game, but again struggled on the offensive end with a 1-0 loss to Long Beach Poly.
The Griffins improved to 9-5-2 overall as they head into Sunset League play this week. The Griffins are still looking for the best lineups, particularly on the defensive end, and have a few players still finishing club soccer seasons.
Those obstacles have been a challenge for the players, head coach Don Martinez said.
He also noted that they try to run a modern and complicated scheme, so getting nine wins in the preseason has given the Griffins some positive momentum.
"It takes a while, we try to be as modern as possible … and it takes a while for the kids to learn that," Martinez said.
They will need all the momentum that they can build as the Sunset League is shaping up to be a tough league.
The two teams that reached the Marina Tournament final were league foes, Fountain Valley and Marina, with the Vikings getting a 1-0 win. Newport Harbor reached the semifinals before falling to Fountain Valley.
"I think Sunset League is going to be very challenging," Martinez said.
Ironically, the Griffins have been solid defensively, despite the lineup changes.
They gave up just two goals in five games during the Marina Tournament. With players moving around, communication and familiarity have allowed them to mesh when necessary.
"I'd say that we have really good chemistry this year and that helps us a lot," defender Matt Smollen said.
Offensively, the Griffins have been hot and cold. They scored five goals in their first two games, but struggled to finish attacks in their final three games.
Dominguez said they missed a lot of opportunities in their quarterfinal loss to Dominguez.
Junior forward Osvaldo Yanez said they have to work better at creating space and spreading their attack.
"We just have to be consistent, be patient and work hard," Yanez said.
The Griffins defeated Buena Park, 1-0, to reach the fifth-place game despite not getting as many quality shots as they would have liked.
After a 0-0 first half, the Griffins got the eventual game-winner on a long throw-in by Junior Zach Way.
The throw-in went into a crowd in front of the net, where junior Sam Rudich headed it past the goalie for the only score of the game. Los Alamitos had a similar opportunity a few minutes earlier, but Way's throw was missed and cleared.
Buena Park had some key opportunities to tie the game, but the defense and sophomore goalie Nick Bonis held.
Bonis was in position to make the stop on a hard open shot and also deflected another solid shot that hit the post and was cleared by a defender before the Coyotes could get to the rebound. The goal-keepers have stepped up with big plays during defensive changes, Martinez said.
The Griffins will open league play today at Edison at 4:45 p.m. and will be at Marina on Friday at 3 p.m.