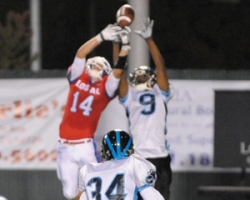 Last Thursday night at Long Beach Veterans Stadium, Los Alamitos High School's Varsity Football player Cody Paul, #5, put on a show that highlighted the Griffins' true grit and ended with a final score of Los Alamitos 35 and West Adams Prep 6.
The opening kickoff by West Adams Prep School of Los Angeles,  coming off a victory against Banning High School of Los Angeles, kicked the ball to Paul.
He took it on the five-yard line and 15 seconds later ran it back for a touchdown and a 6-0 lead in the first quarter.
Then came the fine defense of Los Alamitos led by #35 Glen Miller and #31 Joe Locher.
Locher  played as though he was the  "detective" of defense as he had his nose in on almost every defensive group tackle all night.
Andrew "The Church" Faraimo,  #11, was Locher's back-up man in pursuit of "where is the ball?"
Faraimo showed fitness and quickness in his pursuit of "who has the ball?"
A great performance by Richard Turner, #2, was seen as he staged a one-man show on pass coverage and blitzing the quarterback.
Aaron Davis, #8, was back in the game this week with some excellent tackles; he seemed up to form this week after a small head injury last week.
Danniel Tyler had a great backfield tackle on the West Adam's runner on a critical third down play that took out a lot of West Adam's momentum on offense in the second quarter.
The hot news for the Griffins is that Coach Barnes pulled off a trick play.
Yes, we are talking good old-fashion football.
Kyle Zottnack, #63, at center on a punting situation was talking and trying to set up the snap to Haven Fielding#14.
Fielding took the snap and bound his way downfield for a 45-yard touchdown, giving Los Alamitos a 14-0 lead in the second quarter. Some of Quarterback Dylan Lagarde's passes went a little high, but he seemed on target when he threw the ball to Haven Fielding, #14.
Fielding had a great game playing both offense and defense and had a nice interception as a defensive back. He helped slow the West Adam's offense in the second quarter.
Half-time Report
The Los Alamitos Marching Band was back and performed a stunning pre-game performance with the Cheer and Song girls.
Special note: The second in the nation dance team and banner girls flowed well with the music lead by Richard Makiuchi  (Dutch's band member of the week).
He directed a well orchestrated pre and half time performance for the Los Alamitos High School Band.
The drum section was a highlight of the performance.
It was its continuous slow drum roll during the playing of the National Anthem played before the game started that made the song so inspirational.
The (Dutch's) Cheerleader of the Week recognition goes to Karin Kinsbursky, a senior.
She shows an awareness of the game and knows the mechanics necessary to keep the spirit going.
Third Quarter Ankle injury for Nick Richardson
Standout Griffin running back  Nick Richardson, #4, suffered what appears to be a small broken bone at the top of the foot in the ankle region.
Lagarde, who seemed a little off foot in the first half seemd inspiried by a talk from Griffin's Coach John Barnes.
He found Fielding on a perfect slant pass that Fielding took into the end zone for another touchdown.
Los Al was leading 21-0. Lagarde threw a crisp and  confident touchdown pass in the fourth quarter to Richard Turner, #2.
Back on defense, individual players took the game into a further display of the Griffin's confidance.  Andrew "Church" Faraiaro was heavy on pursuit on plays that went the other way of his defensive linebacker position. Turner sacrificed his body on a tremendous tackle on a receiver as soon as he had caught the ball.
He was down for a few minutes but was quickly back on his feet and was taken to the sideline for a quick exam.
Joe Locher took control of the defensive team by "huddling up," the defensive unit on the field and giving directions on the next play.
Back on offense Lagarde showed poise and skill passing to Cody Paul, #5, who scrambled into the end zone for his second touchdown run of the game.
Los Alamitos defense did a fine job and coaches most certainly must take a bow for their effort. Traveeon Bennett, # 10, contributed by making many tackles.
The Griffin's specialty teams did an excellent job.
Luke Iknadosian's  punt return in the fourth quarter showed sure hands and some dancing skill as he returned the ball to mid-field.
Next week's Friday night game is at 7 p.m. in San Diego against Valley Center High School.
There is a $25 per person bus trip to the game that includes a sandwich.
Contact Jane Euge at (714) 501-9254 to reserve seating.
The bus will leave at 4 p.m.