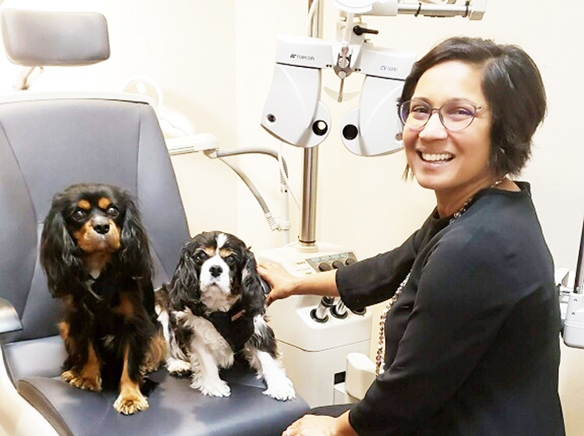 A growing Los Alamitos eyecare practice has announced its acquisition of a Seal Beach optometry practice as more and more small operators decide to work in collaborative clinical environments.
According to John Osborn, the business manager of Alamitos Eyecare, with lease rates skyrocketing, labor costs rising, taxes going up and competition from big box stores, some older practitioners seek a better way to operate. Especially the practices facing the "end of their business cycle," he added.
He said Alamitos Eyecare recently announced the acquisition of the optometrist practice of Dr. Michael Fanarof, noting the former Seal Beach optometrist is now seeing his patients within the Alamitos Eyecare two-story complex in Los Alamitos.
Osborn said more than 6,000 letters of explanation have been mailed to his patients, said Osborn and a sign was also posted to the sign posted on the door of his former practice location near PCH in Seal Beach to let patients know Dr. Fanarof has moved.
In an interview this week, Dr. Fanarof said the new arrangement was the best thing he could have done.
"The main reason why I did it is because of the fact that my patients will have a good doctor to help carry on when I finally do retire," said Fanarof, in an interview. "Currently, I'm semi-retired, so with the move, I now work with very nice people a few days a week," he said.
"For the people who live in Seal Beach, most of their kids go to Los Al High School, so they know the area. It's not as if they have to travel far; it's comfortable for them," said Dr. Fanarof.
Fanarof said the move to Los Alamitos also provides him with a state-of-the-art facility to work with, with modern, in-house optical equipment capable of providing great service to his patients and that he is excited to be working with Dr. Avani Patel, the owner and chief optometrist at Alamitos Eyecare.
"The arrangement is great for Dr. Patel," Fanarof said, "and it's really ideal for my patients," he added.
In addition to her practice, Dr. Patel manages the Low Vision rehabilitative program at Long Beach Memorial Hospital. As the primary eye care provider for the legally blind, Dr. Patel evaluates visually impaired patients for low vision services and treatment options.
According to Osborn, Dr. Patel is a world-renowned low-vision specialist who works with insurance companies, government agencies, and medical institutions to develop innovative treatments for patients with marginal or failing eyesight, he said.
"They work to enhance a patient's remaining sight with specialized optical devices, he said, which include refractive, microscopic, telescopic, electronic devices, etc. and they also refer patients for additional care/support in activities for daily living.
Dr. Patel is a graduate of the University of California, Irvine, and The Southern California College of Optometry, as well as the Low Vision residency program at The Center for the Partially Sighted. She is TPA (Therapeutic Pharmaceutical Agent) certified.
She began private practice in 1995, opening Alamitos Eye care in 2003.  Dr. Patel brings many years of experience and innovative eye care technology to each patient. Her practice includes full-scope primary eye care, plus LASIK co-management, contact lenses, detecting and diagnosing eye diseases, pediatric and geriatric low-vision services, education, and patient compliance
Her groundbreaking work has attracted much attention to Alamitos Eyecare, said Osborn, which also brings advantages to the incoming practices and other entomologists.
As an example, Osborn said Los Alamitos Eyecare has specialized laser equipment in-house at Los Alamitos that allows optometrists at Alamitos Eyecare to not only see inside the eye yet can also visualize the optical nerve and identify other obstructions that may be problematic in the skull.
Osborn suggested some optometrists see an alliance with Los Alamitos Eyecare as providing them with a great location and a collaborative back office, allowing them to focus on providing care rather than worrying so much about the business services the practice must provide.
Osborn said the dynamics of the industry have changed for independently operating optometrists.
"Landlords and developers are asking for out-of-sight prices for leases," he said, which creates amplified problems for older practices that have not made modernization investments in their practices. Alamitos Eyecare offers distinct advantages to these older practices, he said Osborn.
Alamitos Eyecare owns their real estate and they have made investments in high-tech optical equipment that can provide optometrists practicing within the building with immediate test results, said Osborn. "The early investments we have made in technology and real estate have kept things stable for us," he said.
He said the two-story building in Los Alamitos provides plenty of space for the growing optical center, noting that the second floor has recently been cleaned out to allow for additional expansion.
Osborn said the acquisition of Dr. Fanarof's practice was Alamitos Eyecare's fourth in recent years, noting future acquisitions are likely.
Such consolidations said Osborn, "is a growing trend in the industry."