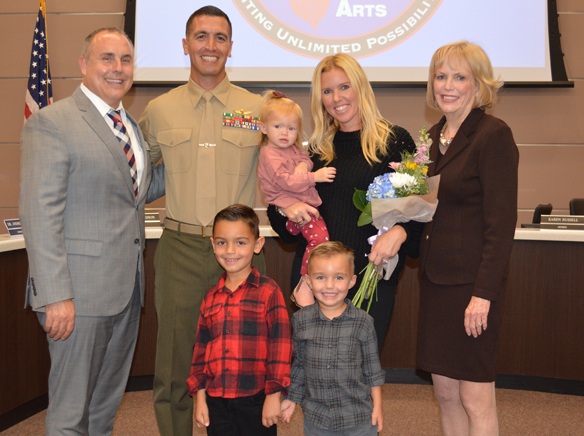 Marine 1st Sgt. Sean Fagan, a Los Alamitos High graduate and decorated veteran of three combat tours in Iraq and Afghanistan, was honored for his service as an American Hero 2019 by the Los Alamitos Unified School Board.
Board member Marlys Davidson, who has known Fagan most of his life, said he "epitomizes courage and service to his nation. Since his days as a student here in Los Alamitos, he always been a person of character, compassion and integrity."
Davidson described Fagan, who grew up in Los Alamitos, as a young man "who could have done anything he wanted in the world. He chose to serve his country put himself in danger and keep us safe."
Fagan graduated from Los Alamitos High in 2001 and enlisted in the Marines. After one tour of duty in Iraq, he joined the Marine Reserves and served two additional combat tours in Afghanistan.
Fagan now works as a firefighter paramedic for the Long Beach Fire Department and recently spent three weeks fighting wildfires in Northern California. Fagan also serves as a Marine Reserve advisor to the Company D 4th Tank Battalion at the Twentynine Palms Marine Corps Air Ground Combat Center.
Fagan thanked the Board for the American Hero honor, saying "it's our pleasure to serve."
He also made a point of thanking his wife, Sarah, for her strength and support in raising their three children during his deployment absences. "Five weeks after we were married, I was in Afghanistan," he said. He missed the birth of his sons but was able to witness the birth of his daughter via FaceTime.
"I owe everything to her," he said of his wife.
Board President Diana Hill said she is grateful "for Los Al grads like you who go out in the world and make a huge difference. Thank you very much for coming back and continuing to give and share in this community with all you do."