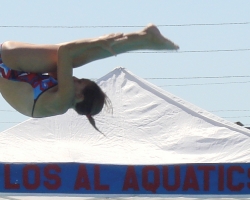 Los Alamitos High School Divers are gearing up for what Coach Shane Butler expects to be the team's best season ever in 2010.  Los Al Junior, Sydney Czaus led the Sunset League in 2009 finishing third among the girls at CIF Southern Section Masters Championships.
The Los Al Varsity Boys easily won the CIF Sunset League title in 2009.  All members of the champion boys' team, except one 2009 graduate, are returning when the season officially starts in February.
The Sunset League Champion Boys are led by senior Steven Jones.  He carries on a strong family Los Al High Diving tradition started by his sister Jackie.
As team captain, Jones has been instrumental in helping the team connect.
He finished in the top 12 at last year's CIF Southern Section Division I Championships.  This was a strong showing especially considering that Jones, an accomplished musician, only dives during the high school season and he was competing against divers who train year-round with club teams.
He also managed to dive well despite a leg injury that kept him out of the pool for several weeks during the 2009 season.  Coach Butler expects good things from Jones again this year.
Fellow 2009 top-12 finisher is sophomore Adam Payne.  Jones and Payne met nine years ago when the two were 9 and under age group dive competitors and teammates with McCormick Divers.
Jones was instrumental in getting Payne back on board for the high school dive season last year after a two-year absence from diving.
Payne was a top competitor in Australia, winning the School Sport Australia 10 Year Old National Champion Title as well as several New South Wales State and Australian Age-Group National Medals in the five years he lived and competed there with Australian Olympic Diving Coach Chava Sobrino.
Upon returning to Southern California in 2007, Payne left diving for nearly two years before being enticed back by his old friend, Jones, for the Los Al High School Dive Team.
Payne is now back training year-round with McCormick Divers in Belmont Shore.  As an international competitor, Payne is looking forward to possibly representing Jamaica in the 2010 Central American/ Caribbean Games in Puerto Rico this summer.
Payne says that while being back at club diving is good for maintaining his skill level, he's looking forward to the camaraderie of the Los Al High School team.
Coach Butler says he is still amazed at having such a strong boys' team.  He's never had a team that included so many experienced divers.  Junior Tim Butler (no relation to the coach) joins Jones and Payne on the Varsity Squad.  A former wrestler, Butler came to Los Al with diving experience from when he was younger living in Indiana.
He came back to diving as a sophomore last year after an ankle injury took him out of the wrestling ring.
Rounding out the Boys Varsity Squad is Neal Jauhal, who made Varsity and the 2009 CIF Division I Championships in his first year diving.  Coach Butler says that Jauhal and Butler are both showing great progress in pre-season conditioning.
The JV boys are also set for a strong showing with veteran competitors Anthony Santos, a member of Los Al's Varsity Soccer team and William "Woody" Nevilles returning from last year's squad.
Coach Butler is actively recruiting new divers for the girls' team headed by Junior Sydney Czaus.  She broke all Los Al High School and Sunset League records in 2009.
As a varsity golfer and former gymnast, Czaus loves the challenge of competitive diving whether it is for the CIF Springboard Championships or the AAU Nationals where she earned Silver in the 2009 National Platform Diving Competition.
Now that the golf season is over, Czaus works out at with the Los Al Pre-Season training twice a week as well as her six days a week training with McCormick Divers.  Czaus is expected to make club nationals again this year with high expectations at CIF as well.
Los Al Dive Team pre-season workouts continue throughout January before the official team is named for the upcoming Spring Semester.
Student athletes are encouraged to contact Coach Butler to participate in pre-season workouts to see if they too can be part of what is expected to be a championship winning dive team for 2010.