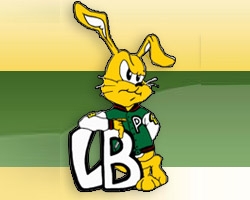 Long Beach Vets Stadium, with a crowd of over 4,000 fans, saw a good CIF playoff seesaw game ending with Los Alamitos losing 24 to7 to a revised Long Beach Poly High School team that appeared to be unstoppable.
I was sitting in the Media box with Long Beach Press Telegram Sports Writer Robert Morales, who has covered Poly this season.
"This is a different Poly Hish School playing out there then earlier this season," he said. "Los Alamitos is not playing the Poly High School of a couple weeks ago. Tonight Poly was unstoppable."
In the first Quarter Los Alamitos and Long Beach Poly battled over field position with each side's defense hitting hard and fast.
Poly's and Los Al Offensive teams both ended up punting the ball away. With 5:38, left in the first quarter Los Alamitos # 14 Haven Fielding playing defensive back, came up with a key interception and a 57-yard return putting the ball with-in the red zone (9-yard line).
Three plays later, the scrambling # 3 Dylan Lagarde threw a pass to # 33 Michael Collins who made a spectacular one hand catch in the end zone for a Los Alamitos lead. Boyer's extra-point kick made it 7-0 Los Alamitos.
Los Alamitos' defense came under fire as Poly's offense kept breaking hard-hitting Los Al tacklers. # 7 Twin Fernandes tight end was continuously clip blocked by Poly's wide receivers in the clip zone. # 8 Aaron Davis, a junior, was hitting his hardest of the year. Josh Gasser made a great open field tackle saving tackle of Poly's # 4 Kaelin Clay, on a 54 yard run. Poly was playing a physical hard running and hitting Friday night football game.
Los Alamitos # 3 Quarterback, Dylan Lagarde was a special target for LB Poly, as Dylan Lagarde had transferred from Poly earlier this season. Lagarde was sacked four times by the Poly defense.
Poly rumbled for their first touchdown, tying the score 7-7 in the first quarter. In the second quarter, Los Alamitos offense rolled into the red zone of LB Poly.
Los Alamitos' leading running back, Nick Richardson, the number one target for Poly's defense, was hit by two Poly defender at the two-yard line.
A stunning third tackle by Poly squeezed the ball loose from the dependable Nick Richardson. Denying the Griffins of a needed touchdown and a 14-point lead. Los Alamitos held Poly's offense inside the the red zone.
Offensively, Los Al could not move the ball and was forced to punt. Poly raced into block the punt, the ball bounced out of the end zone for a 2-point touch back. This gave Poly a 9 to 7 point lead at half time.
Half Time Report
With the Los Alamitos Band gone this weekend competing up in Fresno for its own type of victory in Band Competition.  The Los Alamitos crowd completely rallied with the Cheerleaders, Song Girls, and the two Griffin Mascots.
A special note of honor to the Griffins freshman mascots' cheerleader. Kylie Grodoy, and Autumn Clayman. The two Mascots continuous cheerleading and bumping into each other brought a lot of humor and cheers from the loyal Los Alamitos Crowd.
The Los Alamitos cheerleader/Song Girl of the week is Adnenne Javier, a junior, cheerleader.
With two minutes left in the game, Los Alamitos was down 24 to 7.
Orange County Register sports writer, Mark Garcia, leaned over and said, "Look at those Los Alamitos cheerleaders. Do they ever stop? That is a great special team effort."
Second Half
In the third quarter, it took a time-consuming seven minute possession by Poly's offense to March down field and score against the stubborn hard-hitting Los Al defense. Poly now led 16-7. Poly scored again on a blocked punt that was recovered and scored by Poly. Poly 22-7.
Los Alamitos continued to push on offense against the physically hard-hitting Poly team. Los Alamitos great running back, # 4 Nick Richardson, targeted by the Linebacker all game, was held to less than 102 yards. Nick Richardson was always one tackle away from the big one.
Nick, a junior this year, has a very promising senior year.
Los Alamitos Quarterback, Dylan Legarde, a sophomore, had his toughest game of the year, but put up his best. Shaquille O'Neil playing at defensive end put on some hard-hitting tackles. On one play, he actually knocked himself out, on hitting the hard running Poly back.
Los Alamitos fortunes ran to bad luck when Poly blocked another Los Alamitos punt for a touchback.
Was Los Alamitos out of the game?
Not according to Coach Barnes, who orchestrated a successful on-side kick, recovered by the ever-present, #20 Josh Barut, a Senior. Another Senior, # 18 Josh Gasser, ended his Los Alamitos with a final great catch. Los Alamitos finally could not score and ended up with their "Great Defense" holding on the Goal Line to end the game and the season.
With this week being a holidays. The Sun Newspaper will sum up this year Varsity Football team next week. We will forecast next year and finally get the results of O'Malley's $25 gift certificates this year.
Thank-you for reading. Michael "Dutch" Newton. dutchsemisports@yahoo.com