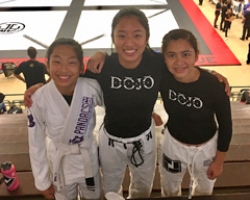 Walking into a jiu-jitsu tournament for the first time can be intimidating no matter how much training a competitor has done.
Add to that competing at a Jiu Jitsu World League competition and the pressure becomes daunting.
However, for a trio of Seal Beach competitors, the pressure of competing for the first time earned them medals on the dojo mat.
Seal Beach DOJO students Erin Chang, 12, Emma Chang, 15, and Renata Gonzalez, 11, competed in the Jiu Jitsu World League competition on Sept. 30 in San Diego.
Each medaled in their respective divisions during their first competition: Emma won a gold medal, Erin won silver, and Renata won bronze.
Emma, Erin and Renata are all white belts and started training at the Seal Beach DOJO when it first opened in April.
The trio trains under DOJO Master Leo Vieira, Professor Helio Barthem, Professor Patty Fontes and Coach Richie Alvarez.
Emma is a student at Los Alamitos High School, Erin and Renata are students at Oak Middle School. DOJO coaches are very proud of these students and the progress they have made in merely six months of training jiu-jitsu.
Emma, Erin and Renata's hard work, dedication and discipline has paid off and motivated them to train even harder for their next competition.