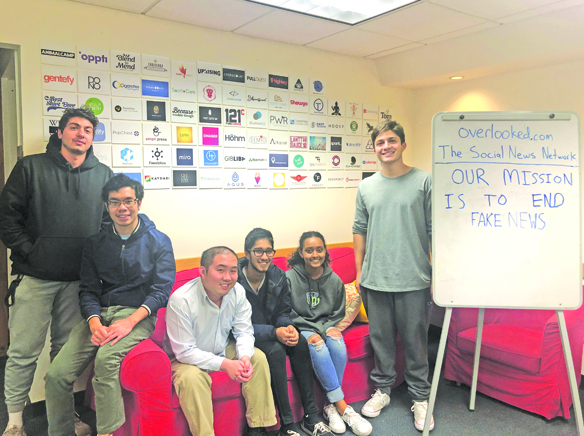 The term "fake news," has become commonplace in American culture today. While it is often used to dismiss news that is simply unflattering to the subject, the dangers of spreading false information is real and a threat to American institutions.
A former Los Alamitos High student has helped develop algorithms and a platform that he hopes will combat the spread of misinformation. George Sehremelis leads a group of students, interns and recent graduates that has launched a social news news network that is designed to allow people to share news that has been vetted for false or misleading statements, as well as ranking the articles biases.
Overlooked.com, began with a group of students, led by Sehremelis, working out of a basement room on the campus of USC. Sehremelis graduated from the university in 2019. He said he was spurred by the genocide in Myanmar, which he contends was propagated by the failure of social media sites and their unwillingness to combat false information spread on their sites.
A New York Times story in Oct. of 2018 reported that the genocide was created in part by Facebook posts that spread false stories intended to incite hatred.
"The Facebook posts were not from everyday internet users. Instead, they were from Myanmar military personnel who turned the social network into a tool for ethnic cleansing, according to former military officials, researchers and civilian officials in the country" the story reported.
Those stories also incited in Sehremelis, a passion to combat the spread of false information. Sehremelis also said he didn't think that American news organizations covered the story as they should have.
"This is why we're called Overlooked, and this is why we're building The Social News Network," Sehremelis states on a background story posted on the Overlooked site. Overlooked is designed to allow people to share news stories and even tag friends in their shares but does not allow users to post items on their own.
The difference, Sehremelis said, is that that prevents users from spreading false items that may have been produced by bots, or individuals specifically trying to mislead readers. Sehremelis used the example of bots that work autonomously on social media sites to spread false postings with the intent of sowing discord among Americans.
Overlooked removes the possibility of that by not allowing users to post their own stories. Every article on the overlooked site has been vetted by the algorithms on the site. The site scrapes article from the internet from all major media outlets and algorithms rate the articles for bias and accuracy. Each article is then posted with score out of a possible 100 points.
The closer to a score of 100 an article gets, indicates it to be more non-biased. An opinion article, for example would likely score low, simply because it is the author's point of view.
News articles would theoretically score high if the reporting is balanced. Still, the site would also provide a claim identifier and a summary of the article.
Users would be able to view the article, and then see extracted sentences that the algorithms found to be biased. It would also help verify any claims made by subjects or the author and see a summary of the article's key points.
"This is what social media for news should have looked like," Sehremelis said.
Overlooked is expecting the launch of a mobile app, which is in the review stage, soon. The site has been gaining traction and towards the end of 2019, the site garnered 22,000 unique visitors over the span of 170 days. That included about 6,500 visitors in a one-month span.
For more visit the site at overlooked.com.