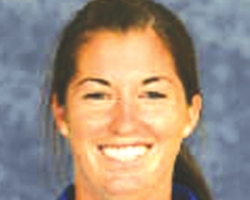 Los Alamitos High School Girls Athletic Director Debbie Fleming has announced the appointment of Liz Connelly as the new Girls Lacrosse Head Coach.  Connelly replaces former head coach Meredith Meyran.
"Liz Connelly has been a stand-out lacrosse player and an equally impressive and dedicated coach.  We're confident that she will continue to run the Griffins' girls lacrosse program at a very high level and guide us to continued ongoing success on and off the field," said Fleming.
Connelly was a three-time All-American lacrosse player in high school and then played three years at Rollins College in Winter Park, Florida.  At Rollins, she was named team captain all three years, and was named to the Division II All-Rookie Team her freshman year and to the Second Team All Region in 2009.  She was also named the Division II Unsung Hero of the Year in 2009 by womenslacrosse.com.
Her passion for lacrosse translated to coaching.  She has dedicated much of her time to the growth and development of lacrosse in Florida, working with several youth, middle school and high school teams in the greater Orlando area.  Connelly has worked for Bounce Entertainment the past two years in pursuit of a lacrosse coaching career.
She started out as a Bounce Hot Pink Coach. She was also involved with the international lacrosse club XTeam as a player development specialist and head coach.
Coach Connelly will be responsible for the girls' lacrosse program, overseeing about 70 players on the Varsity, JV and Frosh/Soph teams.  She replaces Meredith Meyran who built the Griffins' lacrosse program into Orange County's finest, compiling an unblemished girls Varsity record of 40-0 record over the past two seasons.
For more information, visit: www.losalamitoslacrosse.com.