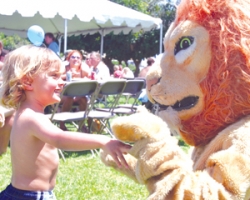 Fried fish and chips will sizzle along with bratwurst and big hot dogs with all the fixings on July 17 and 18 at Eisenhower Park in Seal Beach as the city's longest running event kicks off another year of fundraising with the emphasis on "fun."
The Seal Beach Lions Club started serving up fried fish 67 years ago.
"It was a celebration of the local sea harvest," said longtime Lions Club member Scott Newton. "For the first several years it was held in the Sun Room at the pier and cost about 50 cents for a dinner. In 1943, it earned $247 toward local charities."
Today, the Lions Fish Fry is a weekend long event with thousands in attendance and is expected to raise more than $50,000 for community projects and various Lions charities. Meanwhile, it offers an opportunity for the Leo Club (the youth arm of the Lions Club) members to participate by helping to cook and serve the food. It is through such events that the younger Leo Club youths earn some volunteer experience.
The musical lineup for Saturday includes:  People of Interest, Joe Schmoe, Robby Armstrong and Danny Dean.
On Sunday the bands include:  TyG and The Firestorm band, Soccer Moms, Dangerous Stranger and Avalon Highway.
The Lions, (Knights of the Blind) will be collecting prescription eyeglasses to recycle to those less fortunate.  There will be a big yellow collection box near the entrance of the event.  Those who donate used glasses will receive $1 credit toward one of the dinners, as a thank you for their contribution to the cause. Hours of the event are 11 a.m. to 7 p.m. on Saturday, July 17, and 11 a.m. to 7 p.m. on Sunday at the foot of the Seal Beach pier.
At about 4:30 p.m. on Sunday a brand new Ford Edge will be given away to some lucky participant in the Car Opportunity Drawing.  At that time the other prizes will be awarded.
All charitable funds raised by the Seal Beach Lions Club go directly to charity.
The Lions Club sends this friendly reminder:  No dogs, bicycles, coolers or outside food will be allowed at the Fish Fry.