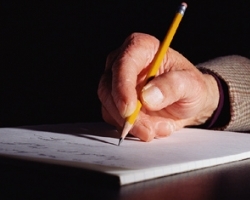 Leisure World problems

Mr. Jaime Guerrero (chief of security at Leisure World) helped my stalker problem together with the Seal Beach police officer. He came 10 minutes early before our meeting. His professional ethic was commendable.
Both Leisure World Security manager and SBPD were successful in solving the Stalker Issue. However, when the social worker made an appointment to meet me she did not show up. I waited from 10:30 a.m. to  noon. I'm a teacher and used to come 20 minutes before any meetings.
I left frustrated. The social worker did not even call. Most shareholders are professionals.
A few weeks after that the bank manager called and we were very busy discussing my safe deposit issue when two strangers knocked at my door. I excused myself and promised to call the bank  manager back.
I asked, "how can I help them and who are they?"
The woman said she was the social worker. Why did you not call before coming? You interrupted and disturbed the bank manager talking to me. Why did you not show up at our meeting, too? Where is professional ethics? I emailed both issues to the GRF president and executive director and copied the social worker. I received an apology from the social worker after many months, when she finally got copies of my emails.
What's going on in Leisure World? Where are professional ethics? Where is justice?
Lisa A. Dickson
Leisure World, Seal Beach
A letter to the city manager
The following letter was sent to Seal Beach City Manager Jill Ingram on Monday, Feb. 13.

Dear Jill,
I object to paying someone $150 per hour to do Mr. Basham's job for possibly the next six months. While neither I nor the public has any definitive information on what prompted you to place him on paid administrative leave, the public has been keenly aware and concerned about a number of serious issues regarding this employee for quite some time now.  Whatever the current issue, it is obviously of great concern to you, and the necessity to place Mr. Basham off-duty has only heightened the public's pre-existing concerns. Therefore, I would beseech you to consider his immediate termination.
Instead of spending $15,500 per month for an Interim Community Development Director while an investigation drags on, this money would be better spent paying off Mr. Basham's contractually-required severance (four months' salary totaling $55,500) if need be (i.e., termination "without cause"). Immediate termination may also allow Mr. Basham to "move on" now, rather than suffering the emotional stress of a protracted investigative process. ??I appreciate that termination of a senior executive is probably the most difficult decision that a City Manager ever has to make. I also appreciate that fairness demands that this decision be made based on evidence, not rumors or innuendo.
For this reason, I ask that you consider what I have documented as repeated incidences of Mr. Basham misinforming the Council or failing to inform the Council on matters of high interest. I have sent you more detailed descriptions on several of these in the past. The following is an incomplete listing from Council meetings during just the last nine months:
Failure of the West End Pump Station, 1/9/17:  During "Council Comments," Councilwoman Deaton asked how staff will decide where and when to deploy the two portable pumps that the City rented in November. During Mr. Basham's reply, he does not mention that the two rented pumps had been deployed to the West End Pump Station for a rain event early that same morning due to the complete failure of both pumps at the Station.
Prevailing Wage, Landscaping Contract, 12/12/16: Mr. Basham misinformed the Council that none of the bids were acceptable due to a State prevailing wage requirement of $50/hr. Councilman Moore asked why maintenance work cannot be done within the state classification of "Landscape Maintenance Laborer," which has a prevailing wage of only $10.22. Mr. Basham replied that Councilman Moore was "looking at a sheet that may be obsolete…now $50.14 as it was updated last year to comply with Senate Bill 7." Mr. Basham's incredulous statement of a wage rise from $10 to $50 was questioned by another Council member, but he stood by his statement. In reality, the prevailing wage of $50 was not for Mr. Moore's "Landscape Maintenance Laborer," but rather for an entirely different classification of "Landscape/Irrigation Laborer" which is intended to be used for new construction projects rather than maintenance. It is apparent that Mr. Basham had no familiarity with the lower priced job classification, but failed to simply acknowledge this. It is noteworthy that tonight's agenda includes a recommendation to accept a landscaping contract from one of the prior rejected bidders with wage rates for maintenance work that are actually lower than their previous proposal.
State Lands Commission (SLC) Beach Lease Fee, 9/12/16:  Councilman Miller asked staff to confirm that the proposed $59,594 annual fee was based on the gross income from the state tidelands area, as stated in an attached SLC staff report.  This is an important point since it implies that the lease amount will rise if a restaurant reopens on the pier.  Ms. Beatley first responded by essentially confirming that the lease is based on gross income, but then defers to Mr. Basham. Mr. Basham then misinformed the Council that the lease amount is based on the appraised value of the properties and the expenditures of the City. His statement contradicted the SLC staff report in his possession that evening. It also contradicted a SLC memo, dated July 1, 2016, which clearly states that the charge of $59,594 is based on a 10% fee rate on a gross annual income of $595,936 from the state tidelands area.
It is incomprehensible how Mr. Basham could have been involved in discussions and negotiations with the SLC and not be clear on this concept.
Loss of Swings in Pier Tot Lot, 5/23/16: The staff report from Mr. Basham on the renovation plans for the Tot Lot failed to mention that the number of swings was being reduced from four to two, even though it was quite obvious that this change greatly reduced the functionality of the play area. After I made this point during public comment and it was echoed by a member of the Seal Beach M.O.M.S. group, the Council insisted on four swings.
Thank you for your consideration. I hope you will appreciate that many in the community are desirous of better government, and terminating Mr. Basham would be a major step towards this goal.

Sincerely,
Robert Goldberg