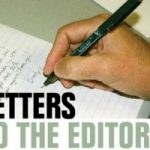 Memorial paddle out being planned for Skip Cook
The date hasn't been set yet, but I wanted the community to know early there will be a memorial paddle out for Skip Cook.
He was a long-time resident and surfer in Seal Beach.
The location will be on the north side of the Seal Beach pier in the morning.
We are asking all that attend to bring a lei or flowers for the ceremony.
Some will paddle out and others will be on the pier. Timing wise I might not be able to announce the date and time in The Sun.
Feel free to call me at 562-430-7081 for an update.
Roger Gilliam
Seal Beach
Long Beach Council District 3 staff not responding to calls
I called for two day's both of Long Beach Councilwoman Suzie Price's offices in regards to a trash container.
I never received a call back or email from them. The city's refuse department was extremely backed up with calls and I could not get through to them. Finally, I called our city's managers office and quickly my problem was resolved. If anyone lives in council district 3 and tries to get a message to Susie Price forget it, she and her staff are not responsive.
Bill Ruzgis
Naples-Long Beach
Crossing Guard, newly painted crosswalks and new signs are not enough
Monday morning, 8 a.m., we had the opportunity to get together chat, and walk our dogs. We both always look forward to these walks—which are too few with our kids and their busy schedules! From the Hill, we headed down 12th street, looking forward to our favorite route—the boardwalk/ocean. Unfortunately, Monday morning, August 15, 2018 around 8 a.m., the 12th Street and PCH intersection had a near terrible tragedy—right in front of us. There were 8 bodies in the crosswalk when this happened: 2 women, 2 large dogs; the crossing guard with her large red STOP sign held high with a gentleman she was escorting across the intersection (7-Eleven side), and a mom with her precious baby in a stroller heading north—toward the Coves. A younger driver (possible teen), in his small SUV, was stopped mid-intersection, with his left turn signal on – facing south on 12th—waiting to turn onto PCH. As we (and the dogs) headed across the newly painted, large crosswalk, I looked toward the driver, and thought he saw us. Simultaneously, a car was traveling north on 12th – going straight across PCH.
The young driver, waiting to turn left (onto PCH) was clearly in a hurry, and looked annoyed – but I really did think he saw all of us walking. In a split second, the car going straight cleared the intersection, just as the mom/baby in the stroller were mid-crosswalk.
The driver gunned the car forward—with the accelerator pushed hard—a very audible sound of acceleration. It was at that moment we realized that the man DID NOT SEE the pedestrians in the crosswalk. We all screamed and thankfully he somehow looked left, saw the Mom and baby, and luckily slammed on his brakes.
The SUV jerked to a stop about 2-4 feet away and pointed directly at the baby in the stroller. Had he have been distracted another second more, and that baby and possibly the mother would have been run down. It was frightening and infuriating. How many more times does this need to happen before a simple left turn light is installed? How horrific that this incident happened at all, and even more terrible that it happened almost a year to the day we lost Sarah Krueger!! As we finished crossing the road – completely rattled, Sarah's memorial flowers on the tree at 7-11 were visible. Supposedly this intersection has been assessed and studied. It was evidently determined that new, shiny signs and a gigantic painted crosswalk would be enough to protect the citizens enjoying a walk in our town.
Your changes are not enough Caltrans! We cannot have another tragedy at this intersection, something else must be done! PLEASE Caltrans – make this intersection safe!!
Kimberly Osborne and Laura Torgerson