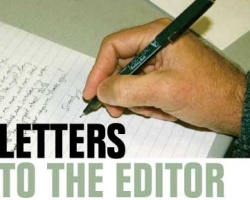 Sweep out Chamber concert stakeouts in the park
During this interminable wait for trickle down job creation, more and more of us wish to take advantage of free entertainment. I used to easily find space for my one chair at the Marketplace and Eisenhower Park shows.
This year, I gave up trying. Unless there is equal opportunity seating, I don't bother.
I don't fully condone the extreme chair pile up reaction, but it did get noticed.
The chamber rooftop monitors apparently supported the presumptuous selfish minority.
I feel less effort and more democracy would have been accomplished by using yellow police tape and surveillance to prevent entry by anyone until one hour before the concert and allowing only one chair per person.
The police substation is right there. Volunteers and/or closed circuit TV could be used to enforce the restriction.
Belmont Shore now sweeps the Christmas Parade route and confiscates early stakeout materials.
Jim Burke
Long Beach
Bike MS Fundraiser to fight Multiple Sclerosis
It's that time again, time to pedal for a cure … and fund-raise for one.
This year will mark the 9th year that Team Crash has ridden to help fight against Multiple Sclerosis.   Come join us on Thursday, Oct. 20 at Beachwood BBQ on Main Street in Seal Beach at 6 p.m. for the 5th annual Team Crash/Beachwood BBQ fundraiser.
There will be great beer, great raffle prizes and the chance to help.  The raffle will be at 9 p.m.
Why Team Crash?  The answer is simple.
In life, we all have crashes of our own.  It's what you do when you get up that matters.  We're up, we're riding, having a beer and ready to go.  Come join us.
What is MS? Having multiple sclerosis means that you may suddenly have blurry vision.
Or that your memory will fail you for no apparent reason. Or that you may not always be able to walk, let alone ride a bike.
The symptoms of MS are different, and devastating, for everyone—the only certainty is that it will affect yet another person every hour of every day.
Kevin Gaffney
Team Crash
LW tax issue is fuel to fire
The Leisure World tax penalty issue has served to add more fuel to a fire started by a group of wannabe revolutionaries determined to burn the place down to make the point that some people get paid more today than these residents themselves got paid decades ago and they don't like that.
(Their Social Security checks are bigger, too, but for some reason, they aren't yelling about that.)
People who are convinced that the current administrator is too young to run Leisure World and that our employees are paid too much are clearly out of touch with reality
.  Our administrator, no longer of an age of interest to Army recruiters, is closing in on Medicare eligibility and it costs a lot more to be poor in 2011 than it did in the middle of the last century.
These things are evident to anyone who possesses even moderate powers of observation.
Threatening staff with layoffs and pay cuts is not the way to maintain loyalty and good service.
A belief that we will be able to replace staff with people who never make mistakes and who will work for 1975-1995 wages is delusional.
Those who insist that they never made a mistake that cost someone else the equivalent of $30 in 2011 (which is the absolute most the tax mistake could cost us in an unlikely worst case scenario … if and only if we stop throwing attorneys at the problem) is lying or having memory problems.
And yet, there they are … a veritable Leisure World Army of Red Queens as in Carroll's "Through the Looking Glass" is marching through Leisure World pointing at GRF employees and screaming "Off with his/her/their/your head!"
This bizarre and pathetic group is currently trying to figure out how we can sue ourselves (mutuals versus GRF … we finance both entities) while simultaneously providing someone with absolute cause to sue us for wrongful termination and win.
If they are allowed to prevail, we will be paying for their Pyrrhic victory for decades.
These people need to cancel their circular firing squad and consult with their physicians if they find themselves experiencing ongoing paranoia, suspicion and agitation, as these are warning signs of other problems.
Sue Savage
Leisure World
Mutual 17
Huntington Beach welcomes Sunset Beach
On a cool and breezy evening, Thursday, Oct. 6, Huntington Beach Joe Mayor Carchio, three City Council members and the city manager of Huntington Beach welcomed Sunset Beach as a part of Huntington Beach. The meeting was attended by members of the community and the Sunset Beach Community Association Board at the outdoor community lot next to the Fire Station on 12th Street in Sunset Beach.
Carchio gave a welcoming speech and opened the meeting to questions from the residents. If questions couldn't be answered on the spot, residents were referred to the appropriate Huntington Beach departments.
Some of the benefits of joining Huntington Beach are:
1.  Residents are much closer to the seat of government. We won't have to drive 19 miles to Civic Center in Orange County to transact business. It is only seven miles to the Huntington Beach Civic Center.
2. Huntington Beach police now patrol Sunset Beach. The sheriffs were often dealing with problems elsewhere and had to come from Rossmoor or further away if there was a problem in Sunset Beach.
3. Huntington Beach Fire Department is now our Fire Department as well, with a station nearby on Warner Avenue.
4. Code enforcement is closer and we believe will be more responsive to the problems unique to a beach area because Huntington Beach has similar problems and concerns.
5. Signs will still say Sunset Beach—much like Corona del Mar and Balboa Island, which are part of Newport Beach—have their own monument signs.
6. Huntington Beach has accepted our Local Coastal Plan and will not impose its own.
It is time for Sunset Beach residents to accept the fact that we have been annexed to Huntington Beach. We need to work with Huntington Beach to make the transition from Orange County to Huntington Beach mutually beneficial. We have a lot to gain by working with Huntington Beach and a lot to lose if we are hostile to the city.
Residents need to work together for the common good of all of Sunset Beach.
Phyllis Maywhort
Sunset Beach