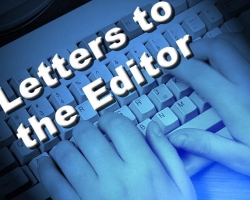 Study all views in schools
Yes! Present opposing views on problematic scientific theories, such as global warming and evolution, to students at Los Alamitos Unified School District. The snags in the global warming theory that also need to be discussed in science classes were thoroughly covered in the excellent letters by Kevin Kropf and Earick Ward.
The theory of evolution certainly requires a comprehensive examination because of weak and twisted hypotheses explaining the origins of matter and the doubtful theorem that our complex body and mind, emotion and spirit could evolve independently from a single cell.
As our graduates study science at prestigious universities, they will not be shaken to discover respected professors and scientific communities who examine, ponder and study the problems inherent in these theories and who are open to different explanations. After being offered opposing viewpoints, our students can continue their studies with open, curious minds prepared to discover the next break-through in science. I commend the LAUSD trustees and encourage all school districts to follow their example.
Maureen Pekar
Seal Beach
Parking pains in Seal Beach
Reading Visiting Senior's Car Tow Saga on June 2, 2011 struck a nerve in me. The city of Seal Beach should consider some flexible provisions on the morning that the Seal Beach 5K/10K and other community events take place instead of seeing dollar signs.
I've seen the small yet mighty parking division in action and I know they are vigilant albeit necessary, however; it would behoove the city to allow some judgment calls in the name of Public Relations on the days these events take place.  I could go over a multitude of scenarios that would have been far less negative in the case of Lono Tyson. Is it against the law for "The Law" to have an ounce of benevolence?
Though I may be a new resident to Seal Beach, I am very familiar with the parking issues in Old Town. A random clunker has been haphazardly parked (I use the term "parked" loosely) directly in front of my house for nine days. I have yet to receive a return call from the parking division.
All of us residents can positively contribute to the parking issue by being a little more mindful when parallel parking, and assess whether the placement of our vehicle could possibly enable another person to fit in front or behind us instead of taking up unnecessary space. Consider it a random act of kindness. As far as Lono Tyson is concerned, that man deserves VIP parking next year. His attitude is commendable.
Pam Choate
Seal Beach
St. Anthony grads
This Saturday, St. Anthony High School will graduate its 90th High School Senior Class. I am honored to have been asked to deliver the Commencement Address at a school that means so much to me and to the community.
St. Anthony High School, located in Downtown Long Beach, has a rich history in our city. Since 1920, the High School has graduated some of Long Beach's best and brightest, including former Vice-Mayors Doris Walker Topsy-Elvord and Frank Colonna, George M. Murchison, John A. Vander Lans, Robert Senske, Lou Anne Bynum, Mia Wells Beglinger,Gloria Cordero, Marlene Moncure, David Shlemmer and many others.
I had the honor of working at St. Anthony High School straight out of college. During that time, under the leadership of Gina Rushing, the school was transforming from an institution that was on the verge of closure, to a school of the future. Investing in not only community based learning, but in the latest technology.
Seventy students will graduate this Saturday, 70 percent of whom have already been admitted to four year colleges or universities.
Saint Anthony's is also the fastest growing high school in the Archdiocese of Los Angeles, with 20 percent growth this year and a projected enrollment for Fall 2011 of 440 students.
I am proud to be a part of the Saints Family, and am looking forward to the next 90 years.
Robert Garcia
Long Beach
Rossmoor does pay its way
Boy, do I have good news for Enea Orich!
She can be assured we in Rossmoor are not getting a tax-free ride, despite her feverish claims. I have 51 years' worth of tax receipts, paid to the Orange County tax collectors to show otherwise. These are for schools, street sweeping, mosquito abatement, street lighting and much more. Our Community Services District pays into the Water District, the Sewer Fund, the OC Sherrif''s Department and more.
In her column she claims several times we do not pay our way, because we're not incorporated.
We couldn't get away tax free if we tried. It's obvious and quite sad that a person's comments are so baseless and misdirected. Her entire premise is as embarrassing as it is erroneous. The real issues of cityhood and costs are complex. Hopefully, our elected leaders can get it right some day
Roy Roudine
Rossmoor