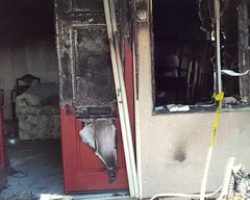 A Leisure World resident's dogs are credited with minimizing injury from a fire that displaced at least four residents Friday night, Sept. 1.
The fire broke out around 10:15 p.m. on the patio of a four-plex building, according to Orange County Fire Authority Captain Paul Holaday, and was knocked down in about five minutes after firefighters arrived.
The owner of the condominium where the fire started was taken to a local hospital for observation and was later released.
Residents of adjacent units were forced to relocate as Fire Authority personnel searched the building for lingering hot spots.
Holaday said the unit's smoke alarm was working properly but the owner, who was asleep when the fire started, did not hear it.
Her dogs eventually woke her up, and by the time she got to her front door firefighters were on the scene.
The cause of the blaze, which was limited to a patio structure and the unit's front room, is still under investigation.