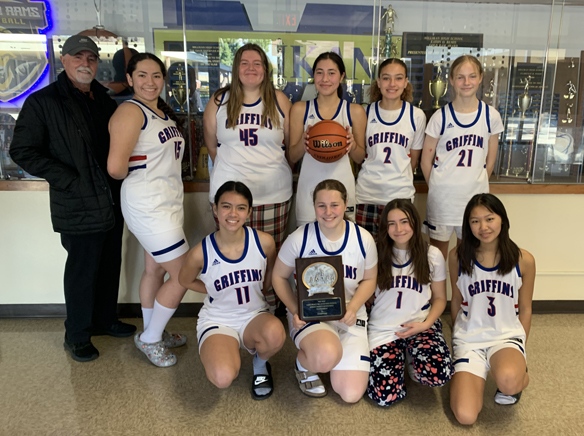 The Los Alamitos High JV Girls Basketball team has won "The Long Beach Millikan High School Junior Varsity Tournament" to claim its second tournament championship in two weeks, but this time the team took a short cut to win the championship plaque.
Invited late to help fill out the tournament brackets, the Griffins (8-2) played only two games in the four-game tourney, but were matched up against two top winning teams, Northview and Millikan high schools.
They beat both, and after defeating the top-ranked Millikan team 45-36 on Saturday, December 10, the Griffins were awarded the Championship plaque.
Against Millikan, the Griffins were led in scoring by freshman Lexi Kyriakos' 11 points, including two threes in the first quarter, and by sophomore Sanorah Sandor's 10 points.
Sandor also led the team in rebounding with 9, followed by freshman Paige Davis with 8, sophomore Mikayla Aguayo with 7, and junior Mari Nagata with 6.  Sophomore point guard Katie Nakagawa added an all-around game of 3 assists, 5 rebounds, 5 steals, and 7 points.
"We had good contributions from all nine players," said Griffin Head Coach Patrick Kennedy.  "We were pleasantly surprised to be awarded the championship and we hope to come back next year and play the entire tournament."
On November 26, the Griffins also won the Silver Division championship of the El Toro High School "Thanksgiving Classic."  In that tournament, the Griffins had 4 wins and no losses, overcoming Mission Viejo, San Juan Hills, University, and El Modena high schools.
The Griffins next play an away game against California High School on Friday, December 23, at 12:30 p.m.