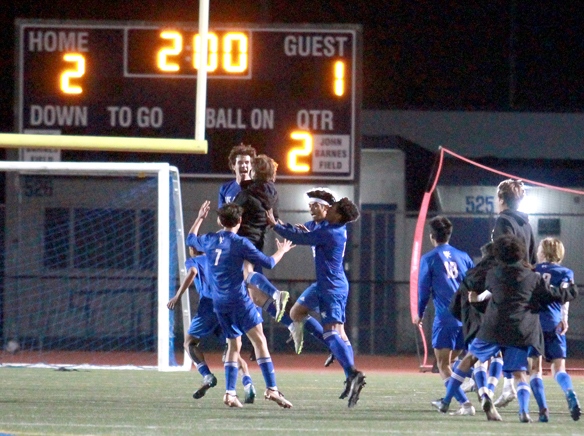 After several close calls, including defenders behind the goal keeper who blocked shots on the goal line, the Los Alamitos High boys soccer team found a wide open, game-winning shot, that propelled them to a 2-1 win over Newport Harbor in the CIF-SS Division 3 semifinals on Saturday at Los Alamitos High.
The win puts the Griffins in the CIF-SS Championship game against Quartz Hill on Thursday at 5 p.m. at Antelope Valley College. The game-winner came with just minutes left in regulation, after several near misses by the Griffins.
Cael McElderry had the ball in the corner and was taken down as he tried to get around a defender to move towards the goal. But the ball rolled behind him, where Enoch Gonzalez was able to control it and move around the defender. As he moved along the endline, the defense collapsed, so he fired a shot at the goalkeeper, appearing to look for a rebound or deflection.
The ball did bounce off the goalkeeper and back into a crowd, where it was tapped back across the goal into open space. That was where a charging James Metcalfe found it in front of a wide open net and slammed it in for the go-ahead score.
After kickoff, the Sailors tried desperately to find an equalizer, but the whistle sounded shortly after as the Griffins celebrated. Newport Harbor had scored in the 25th minute and held the 1-0 lead into halftime. Their ability to crowd the middle on defense caused some frustration for the Griffins. Head coach Donovan Martinez said they talked at halftime about getting back to their game and using the outside to gain the zone and attacking from there.
The Griffins did find the equalizer in the second half, when a centering pass got to Demitrious Tanks in space. He had just one defender in front of him and he made a quick move to his right and fired a crossing shot past the defender and beat the goalie around the 53rd minute mark.