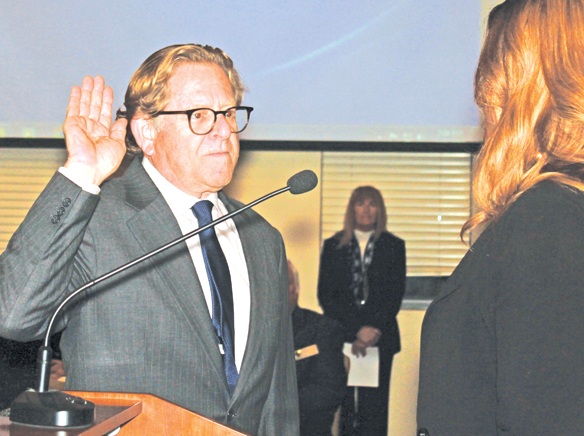 Joe Kalmick was sworn in as the District One representative on the City Council Monday, Feb. 25.
Kalmick's first council meeting saw him request an update on the First Street realignment near the former DWP property. On the advice of the city attorney, Kalmick recused himself from a public hearing on floodplain management and from the discussion concerning the next contract to build the sandberm because his home was near the areas in question.
Mayor Thomas Moore welcomed Kalmick to the council.
Kalmick thanked the community in Distruct One for supporting him. He thanked his predecessor Ellery Deaton for her service. (See story, page 2) He thanked city staff for their patience. "There is a lot to learn," Kalmick said.
"I'm looking forward to the spring and summer, when we wear Hawaiian shirts," he said.
City Manager Jill Ingram welcomed and congratulated Kalmick.
Ingram thanked him for the opportunity to bring him "on board" a little bit.
Kalmick recently won the District One runoff race.
The results were certified Feb. 7, according to a staff report to the council.
According to Orange County Registrar of Voters Neal Kelley, Kalmick received 1,003 votes. His opponent, Peter Amundson, received 552. According to the Registrar's Office, there are 3,477 registered voters in District One; of that group, 44.8 percent cast ballots in the mail-only runoff.
According to the staff report by City Clerk Gloria Harper, the estimated $19,000 cost for the runoff was included in the city's 2018-19 budget.
This was not Kalmick's first runoff election. Eight years ago, Kalmick and Deaton faced each other in a runoff election because she fell just a few votes short of the required 50 percent plus one to win the regular election.
Kalmick, a former volunteer fire fighter, became active in Seal Beach government last year while serving on the Ad Hoc Fire Committee.
At a recent "thank you" event for his campaign supporters, Kalmick guesstimated that with people coming and going, as perhaps many as 75 people came to celebrate his victory.
The guests included individuals from various elements of the community, such as Jim Klisanin and Mike Buhbe who were on opposite sides of the 2008 height limit ballot measure.
According to a staff report on City Council appointments to intragovernmental agencies, Kalmick will be the representative on the council's Bay City Sub-Committee (DWP property), the Los Cerritos Wetlands Authority and will be the representative or alternate on the Joint Forces Training Base Ad Hoc meetings, the Seal Beach audit committee, and the West Comm (911 dispatch) Joint Powers Authority.