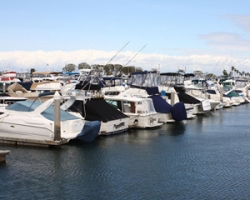 The Huntington Harbour Philharmonic Committee Boat Parade is a free event set for Dec. 10 and 11.
Visitors can watch at Peter's Landing, little beaches, or bridges.  Boat entries are free…corporate entries are $300.
Lineup for the parade is 4:15 p.m. The boat parade is a thank you to Huntington Harbour residents for decorating their homes for the Cruise of Lights.
Information on the Huntington Harbour Philharmonic Committee boat parade is online at: www.hhboatparade.org.
The 49th annual Cruise of Lights is presented by the Huntington Harbour Philharmonic Committee. It's a 45-minute narrated boat tour of the waterways of Huntington Harbour.
Guests see thousands of lights on boats, decks, docks and homes, plus some incredible animation.
The event will be held Dec. 15 – 23. Times: 5:30 p.m, 6:30 p.m., 7:30 p.m., and 8:30 p.m.
Prices: $17 adults, $10 children ages 2-12, children under 2 are free.
Special value night, Dec. 19…adults receive a discounted price of $15.
The theme this year is "Island Serenade."
Proceeds go to benefit the music programs for over 250,000 Orange County students from kindergarten through 12th-grade.
Information on the Cruise of Lights is online at: www.cruiseoflights.org.
The phone number for both events is: 714-840-7542.