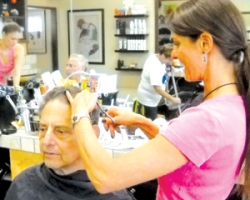 Seal Beach resident Kathi Powelson taped up a simple message to the window of Salon Meritage two days after the shooting.
"Please join us on Sunday at 2 p.m. at Marina Park to brainstorm ideas on how we can help the victims of the shooting," the note said.
Two days later, about 15 volunteers, some with children in tow, showed up at the park eager to come up with ideas. The volunteers, most of whom are from Seal Beach and surrounding cities, are ready to provide service to the families of the victims of the Salon Meritage shooting.
Jim Watson, owner of the Seal Beach shopping center, and longtime Seal Beach resident joined the group. Powelson is working with city officials and the city's Chamber of Commerce liaison to connect with the families.
After an almost two hour meeting, the group named themselves "Healing Hearts."
"The focus of our group is to provide service to the victims' families and survivors of this tragedy," said Powelson, an adapted P.E. teacher in the Montebello school district. "We'd also like to recognize the first responders, many of whom were traumatized by the shooting.
All of these families are going to need a lot of assistance in many different ways and we are here to help them – now and in the coming months."
Volunteers are willing to perform the following tasks: Cook/purchase meals to be delivered, run errands, child and pet care, school tutoring, help with making phone calls/sending out mails, help at funerals/after funeral receptions, including cooking, busing tables, setting up/breaking down tables and chairs, helping with flowers, etc.
Professional services that can be offered include crisis counseling at no charge (by a licensed therapist), massage therapy at no charge (by a professional medical massage therapist), laughter Tai Chi, lactation consultation (if there are any nursing moms who are survivors) and media relations consulting.
During the casual meeting, community members took the opportunity to talk about the massacre and how it's affected them personally. One woman described how her husband, a 36-year veteran firefighter nearing retirement, was a first responder during the shooting.
"Even though he's trained for this, nothing prepared him for what he saw," said Cindy Hooper, his wife who attended the meeting.
Due to Hooper's input, members of the group are also planning activities geared toward emergency personnel on duty that day and visits to local police and fire stations.
"Our group recognizes that we will help in any way that we can if the families or survivors want the help," Powelson said. "If the families do not want our assistance, then of course their privacy will be respected."
The newly formed group welcomes additional volunteers interested in helping out.
With the holidays coming up, there are also plans to make cookies, create "prayer bear blankets," and provide whatever support and comfort families may need.
For more information, please contact Kathi Powelson at jkcspowelson@yahoo.com.