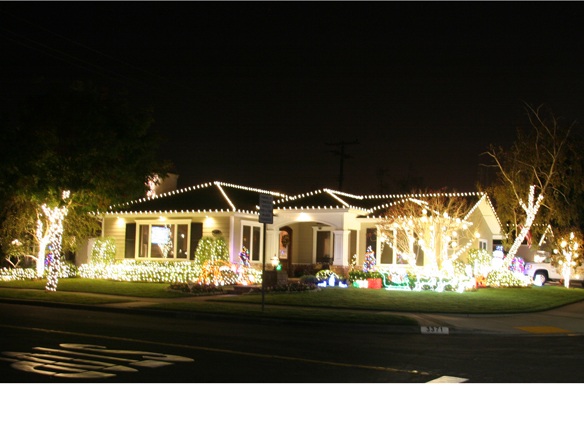 Here we go! Well, kind of – going absolutely bonkers at the moment, being that as of the weekend after Thanksgiving, my house is completely dark. I'm part of a group of wonderful neighbors that start decorating for the Christmas season the day after turkey. This group includes Bill, John, Jim, Randy, Jami, Rosalio, Rich, Michelle, Tim, Ryan, Zac, Larry, Lynette, Jody, Raul, Roger, Nina, Andy, Monte, Annette, Bob, Stefan, Tammy, Craig, Terry, Eric, Mark and Kieran. I'm so jealous of those Rossmoor households (and all the Christmas crazy families) at the moment. Just had surgery on the foot, with the doctor's orders of absolutely no pressure on the leg, which doesn't bode well to climbing on one's roof or lawn with Christmas lights and decorations – ah humbug.
So, with that in mind, the RHA sponsored Rossmoor Christmas Lights Celebration kicks off their 12th annual season of colored lights and festivities, encouraging all Rossmoor residents to register their home now!
Of course, this isn't a contest, and the amazing Christmas spirit across Rossmoor allows us to create a customized map. The hotspot homes of Christmas festivity are highlighted to help everyone navigate the neighborhood and share in the excitement!
Previous awards included the Winter Wonderland Award, the Griswold Award, or even Rookie-of-the-Year Award. The primary goal for all participants is to Make-the-Map, with your home being identified as one of the locations for families to check out along the route.
Speaking of routes, in its third year, the Rossmoor Christmas Lights Bicycle Tour is planned for Saturday, December 22, starting at Rush Park. So many people have already been asking about this! More details to follow for a fun family evening that will include bike decorating and post tour festivities.
Chris Marshall and Kieran Nolan co-chair the RHA Christmas Lights Celebration, and participation is completely free (well, apart from the back-breaking labor required to decorate your house, of course)! To participate and earn a spot on the neighborhood map, simply send an email to the team at rossmoorlights@gmail.com, or register via the RHA website with your name, address, and phone number at https://ourrossmoor.com/christmas-lights-entry/
Here are the key dates:
• Saturday, December 15: Judges travel around that evening, checking out the registered homes and determining the recognition awards and homes to be included in the Hot Spots Map
• Tuesday, December 18: Recognition Awards and Christmas Lights Hot Spots announced on RHA website, and Map available for downloading
• Saturday, December 22: Rossmoor Christmas Lights Bicycle Tour, starting at Rush Park
OK time to register and decorate your house for all the walkers, bikers and drivers that will be enjoying your Christmas lights efforts throughout December.
Chris Marshall is co-chair of the RHA Christmas Lights Celebration.