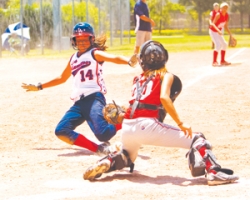 After a disappointing performance at Capo Valley last Wednesday, where the squad reportedly picked up just two hits, Los Alamitos' varsity summer baseball team got its bats rolling early against Tesoro Friday afternoon.
The squad picked up three of its seven hits in the first and used three pitchers, including two brought off the JV squad, to toss a three-hitter in a 3-1 win over the visiting Titans.
After starter Sam Lorenzini gave up a one-out single in the first that was erased trying to steal, the Griffins got to work.
Frankie Padulo drew a leadoff walk with Moises Montes' single moving him to second.
Pat Ivison's then dropped a single between three Tesoro players to score Padulo. Nick Vilter followed with another single, plating Montes for a 2-0 lead.
A two-out passed ball would bring Vilter home and end the scoring as the next hitter was retired on a fly to right.
Los Alamitos would pick up just four hits the rest of the game, not getting a runner to third. The squad would also not pick up a walk in the contest.
Lorenzini, along with Ryan Cameron and Brandon Heffern, did a solid job in keeping Tesoro from inflicting much damage.
After giving up a run on two hits in the second, Lorenzini settled down and retired the last four batters he faced before being replaced by Cameron in the fourth. Cameron allowed no hits, walked one and struck out one in his two innings on the hill.
Heffern came on in the sixth and walked three batters, including a pair with one gone in the seventh to put the tying runs aboard. A 6-4-3 double play ball got the Griffins out of the jam.
The Griffins threatened in the third with the JV kids, who were brought up due to their game being cancelled, continuing to show their worth. Junior Dan Austin came through with a two-out base hit and went to second on a passed ball. He was left there as the next hitter grounded out to short.
In the fourth, Lucas Hyman came through with a two-out single but was thrown out trying to steal. The two-out single parade continued in the fifth with Padulo doing the honors. The results were the same, however, as a fly to right ended the threat.
Keeton Quaack's infield single with two gone in the sixth would be the last hit as the next hitter was retired.
The squad returns to action today with a 5 p.m. home game vs. Orange Lutheran which was originally scheduled to be played in Orange. The Griffins stay at home Friday for a rematch with Tesoro.