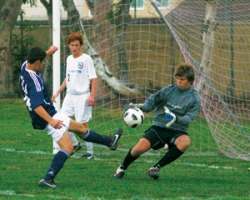 Los Alamitos High's boys soccer team got its season off to a good start with a 2-0 victory over Loyola of Los Angeles, on Nov. 30, at Laurel High School.
Loyola came into the season as the No. 6 ranked team in the CIF-SS Division 1 preseason rankings, so it gives the young Griffins a solid win to start the season. Los Alamitos came into the season with only six seniors on its roster and with many of its graduates having been on the defensive end of the field.
Head coach Don Martinez was happy to see his team battle for the win, but he knows they still have a lot of work to do to get ready for a tough season. Part of his game-one strategy actually involved moving two experienced offensive players back to the defensive line as he searches for the right combination to shore up their defense. They were able to get the shutout, but effort was a big part of it.
"I liked the fight in the boys, we came out ready to fight and meet their intensity," Martinez said.
The Griffins (1-0) were able to take a 1-0 lead when a crossing pass from the left side was put on goal by senior Jamison Bryant. The ball glanced off a Loyola player but still managed to find the back of the net. In the second half, junior Sam Rudich made a steal at mid field and fed a through pass between the defenders that gave junior Ozvaldo Yanez a free run at the goal.
Yanez caught up to the ball before a charging goalie could get out to the ball and chipped a soft shot over his shoulder to the left side of the goal. Loyola was able to get several pressure opportunities, but were turned away by the defense and junior goalie Connor Fatone. Sophomore Nick Bonis played goal in the first half to combine for the shutout.
"We have a lot of work to do, but it's good to see where we stand right off the bat," Martinez said.
While the Griffins search for the right combination on defense, the offense could prove to be dangerous.
Yanez provides a lot of skill with the ball and sophomore Dario Garcia saw a lot of playing time as a freshman last year and looks to be one of the more talented players on the offense. Martinez is hoping to mesh some of the talent with new varsity players for solid group effort.
"Hopefully we can mesh it as a team … with this team we're going to have a collective and it's going to be that collective effort that wins games for us," Martinez said.
Connor Fatone makes a save in front of a charging Loyola player in a 2-0 win for Los Alamitos in their season-opener.